A few weeks after Microsoft launched heavy student discounts for its Surface RT tablets, the company now plans to lop off $150 from the price of its overpriced tablets for the general public.
The twin discounting moves suggest that consumers are turning a cold shoulder to these tablets.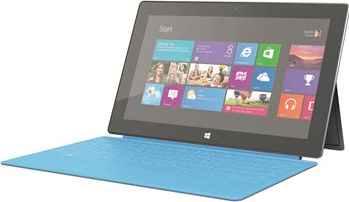 Surface RT – $150 Discount Follows Flop
The new price of Surface RT will be $350 for the 32GB version and $450 for the 64GB model.
The 10.6-inch Surface RT tablet runs the Windows RT operating system and is powered by a Quad-core NVIDIA Tegra 3 processor.
The device comes with 2GB of memory.
Office supplies chain Staples has already started advertising the new low prices for Surface RT in its sales flyer for the coming week.
It's not clear if Microsoft is discounting the Surface RT tablets preparatory to discontinuing them or just dumping inventory before releasing newer models.
Tough Struggle
As I've said from the beginning, Microsoft had no hope with its late-to-market Surface RT tablets given their ridiculously expensive price tag.
Study after study has shown that the Apple iPad is the only tablet that has traction in the marketplace.
The rest, including most of the Android crowd, are irrelevant players forced into heavy discounting to move their inventory.
I suspect even at the "reduced" price, Microsoft will have difficulty unloading these Surface RT suckers on the public.
Besides the Surface RT, Microsoft also sells the more expensive Surface Pro tablets ($900 for the 64GB version and $1,000 for the 128GB version).
I predict that in a few months we'll see discounts on the Surface Pro tablets as well. Surface Pro run on the Windows 8 Pro operating system.
How Microsoft CEO Steve Ballmer still keeps his job with so many goof-ups on the mobile products side is a secret known but to God!
Related Posts:
Desperate Microsoft Tries Sneaky Trick to Sell Surface RT Tablet Nobody Wants