Today Microsoft launched a Windows Tablet broadside called Surface in hopes of reaping some of the glory and revenues that Apple has cornered all for itself with the wildly successful iPad tablet.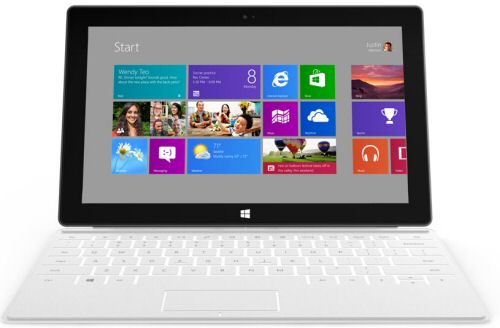 Surface Tablets – Basic Specs
* Screen – 10.6-inch HD display; 16:9 Aspect Ratio
* Two models – Surface for Windows RT running on ARM processor and Surface for Windows 8 Pro running on Intel chips
* Operating System – Windows RT, Windows 8 Pro
* Touchscreen and digital pen input
* Integrated 3mm Touch Cover that doubles as a keyboard
* USB 2, microSD, Micro HD video
* Front and rear video cameras
* Built-in stand
* Thickness – 9.3mm for Surface Windows RT and 13.5mm for Windows 8 Pro version
* Weight – 676gms for Windows RT version and 903gms for Windows 8 Pro model
* Storage – 32GB and 64GB for Windows RT and 64GB and 128GB for Windows 8 Pro
Surface Pricing and Availability
Microsoft said Surface for Windows RT's price would be comparable to other tablets that used an ARM processor but did not provide details.
Apple charges $499 for the 16GB version, $599 for the 32GB version and $699 for the 64GB version (all pricing is for WiFi only models) for its newest generation iPad tablets.
Microsoft did not mention exact ship date too but said Surface for Windows RT would be available when its Windows 8 operating system launches.
The Windows 8 Pro tablet should ship three months after that.
Since Windows 8 is expected to be completed in late July, we can expect Surface for Windows RT to ship sometime in the late third quarter and Windows 8 Pro models to ship in late 2012 or early 2013.
It's safe to assume that at least the Windows RT model will be available for the busy holiday shopping season in December.
Applications for Surface Tablet
Surface for Windows RT will not run existing Windows applications.
It will run only applications included with the tablet (including Office Home and Student 2013 RT) and those offered via in the Windows Update or the Windows Store.
Surface for Windows 8 Pro will run existing Windows 7 applications.
Microsoft demo'd Netflix movie streaming application on the Surface launch event today.
But there's no word on how many applications will be available for Surface for RT when it ships.
Surface Tablets – The Real Deal
Surface looks cool in videos but a slick presentation does not often translate into great products.
Apart from the Xbox and peripherals like mouse or keyboards, Microsoft has only limited experience in designing and selling its own hardware. The company's traditional business model has been to license its software to multiple hardware vendors like Samsung, Dell, Acer, Asus, HP and Sony among others.
Surface's success will ultimately depend on whether Microsoft can deliver a bug-free product at a compelling price and on the number of applications available for the device.
Related Posts:
Can Microsoft's Windows Tablet Storm the iPad Citadel? Not Unless There's a Miracle