Barely have Microsoft's Surface Pro 3 tablets started shipping, when the company has already launched a MacBook Air trade-in program.
Customers who trade in select models of MacBook Air can get up to $650 in store credit that they can apply toward the purchase of a Surface Pro 3 at the Microsoft retail store.
If the MacBook Air trade-in program is not a sign of Microsoft's desperation, I don't know what else it can be!
To be eligible for the trade-in, the MacBook Air must power on, not be water-damaged or have a cracked screen.
The trade-in program is valid until July 31, 2014.
Microsoft has been pitching Surface Pro 3 as a laptop replacement and gone after Apple's popular MacBook Air notebooks in advertisement and at the launch function in New York City last month.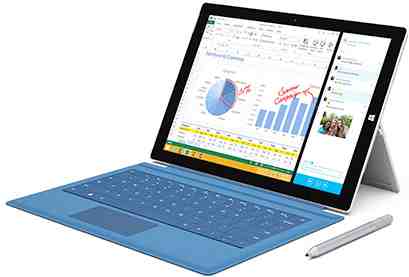 Surface Pro 3 Tablet
Surface Pro 3 – Pricey Affair
Surface Pro 3 tablets cost from $799 (64GB) to $1,949 (512GB) depending on size of storage and processor.
Accessories such as the Surface Pro Type Cover keyboard ($130) and software like the Office Suite are extra.
A 512GB version of Surface Pro 3 with keyboard, case, docking station, mouse and Office software costs over $2,500. Such a high price tag is sure to meet with strong resistance from buyers.
Surface Pro 3 has a 12-inch screen and runs on Windows 8.1 Pro operating system software.
Some models of Surface Pro 3 started shipping on June 20, 2014. Other configurations are scheduled to ship in August.
Surface – Struggle
Microsoft has struggled to win customers for its Surface line of tablets.
The first two versions of Surface met with a tepid market response resulting in repeated price cuts and ultimately a write-off of nearly a billion dollars.
Adding to Microsoft's woes, the tablet market has slowed down in recent quarters.