If I've said it once, I've said it a million times.
Not only does Microsoft have no hope of selling its Surface RT or Surface Pro tablets in any meaningful number, the devices are also turning to be a huge drag on the company's earnings.
A short while ago, Microsoft announced that it was taking a $900 million charge in its fiscal fourth quarter ended June 30 related to "Surface RT inventory adjustments."
Apple's iPad and to a lesser extent the Android tablets are clobbering Microsoft's Surface RT and Surface Pro tablets.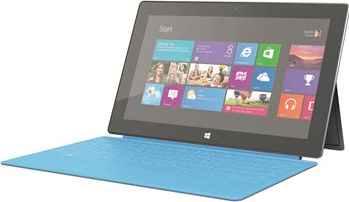 Surface RT – $900 Million Inventory Charge
Microsoft was late to the tablet market and to compound its self-inflicted woes priced them ridiculously high when they were introduced last year.
Last week, Microsoft belatedly cut the price of Surface RT.
But the move came too late.
Surface RT is considered a dud by everyone in the market and unless Microsoft hosts a $99 fire-sale a la HP TouchPad, there's no way consumers are going to pick up that device.
Plus, developers are not writing apps for the Surface tablets since there's not much consumer interest in the devices.
At the end of the first quarter (March 31, 2013), Surface tablets accounted for a pitiful 0.9% of tablet unit shipments.
Microsoft's Surface Pro tablets are sure to meet the same fate as Surface RT since they're even more expensive, priced at $899 and above!
Whoever said, Whom the Gods wish to destroy they first make mad, probably had Microsoft in mind!
Misses Estimates
Microsoft reported a net income of $4.97 billion on revenues of $19.90 billion in its fiscal quarter ended June 30, 2013.
The results include a $900 million charge ($0.07 per share) related to Surface RT inventory adjustments.
Microsoft failed to meet analysts estimate for revenues of $20.7 billion and earnings per share of 75 cents.