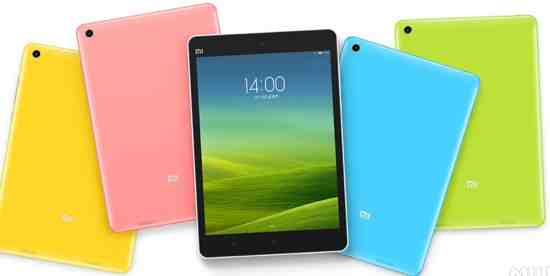 Xiaomi's First Tablet – Mi Pad
If ever I buy an Android tablet, it'll surely be the 64GB version of Xiaomi's new Mi Pad.
As expected, Xiaomi, the Apple of China, today launched its first tablet, the 7.9-inch Mi Pad.
And the hordes of Xiaomi fans are delirious.
If the big kahunas of the tablet world like Apple, Samsung, Asus, Lenovo, Amazon and Microsoft are not cowering with fear today, they ought to be.
Featuring a 2048×1536 display, 5MP front camera, 8MP rear camera and a 6700 mAh battery, Mi Pad's debut at an attractive price comes at a time when tablet sales are slowing down.
Mi Pad is WiFi only and comes in two models – 16GB ($239) and 64GB ($272). You can add extra storage (up to 128GB) via the miniSD card slot.
Mi Pad vs iPad Mini
So how does Xiaomi's Mini Pad tablet stack up against the leader of the tablet universe, the iPad (which comes in two sizes, the regular 9.7-inch model and a 7.9-inch mini version)?
Let's compare the Mi Pad with the iPad Mini Retina Display.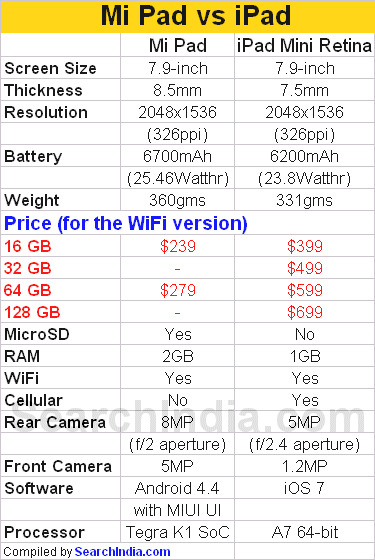 The Mi Pad is a lot cheaper, particularly for the higher storage models, compared to the pricey iPad Mini with Retina Display.
Second, the Xiaomi device is WiFi only unlike iPad Mini, which comes in both WiFi and WiFi + Cellular models. But since the bulk of tablets sold are WiFi models, absence of cellular option is not a big negative for the Mi Pad.
Mi Pad is set to start shipping in June in China.
No word yet on whether Xiaomi intends to bring Mi Pad to the U.S.
Since Xiaomi has already announced plans to introduce its smartphones in the Indian market, I won't be surprised if the Mi Pad too makes it to Mera Bharat Mahaan.