As my loyal readers have long know, I'm rarely, if ever, wrong when it comes to good taste! 😉
Over the last few months, I've frequently mentioned that Chinese smartphone vendor Xiaomi is an unstoppable force.
Guess what? I was right (again).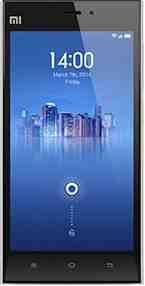 Xiaomi Mi 3
A short while ago Xiaomi CEO Lei Jun disclosed that the company had sold 26.11 million smartphones in the first half of 2014, a humongous growth of 271%.
Although I'm a long-time iPhone user, I will readily concede that Xiaomi makes solid, sleek Android smartphones and tablets with powerful specs and sells them at low cost.
Like me, Xiaomi has many fans but mostly in Asia because its devices have not hit Europe or America.
Xiaomi Enters India
No smartphone vendor can afford to ignore India.
And Xiaomi is certainly not blind to the opportunities in Mera Bharat Mahaan.
Xiaomi announced its official entry into the highly price sensitive Indian market on June 18, 2014.
India is still largely a feature phone country and there's a huge market for smartphones at low prices.
So it should be interesting to see how Xiaomi fares in India given the strong challenge it will face from established players like Micromax, Karbonn, Samsung, Huawei etc.
Founded in 2010, Xiaomi is valued at $10 billion and employs 3,000 people.