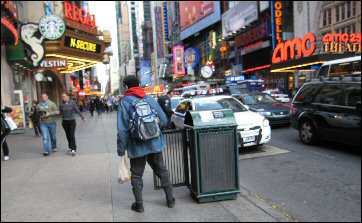 AMC (Right) and Regal (Left) in NYC Screen Bollywood Films
The other day we were moving around Times Square in NYC and, of course, we bumped into a desi (one of those H1/L1/B1 types on a short work visit) who wanted to find out where to watch Bollywood movies in Midtown Manhattan.
If you are like that desi, we suggest you head to W.42nd Street near Times Square and the Port Authority bus station.
There are two theaters – AMC Empire 25 and Regal E-Walk on W.42nd St near Times Square, between 7th Ave & 8th Ave where you can watch most Bollywood and Hollywood and occasionally indie movies too.
AMC Empire 25
Located at 234 on West 42nd St, AMC Empire screens most Bollywood movies.
On the day of our visit we saw showtimes for John Abraham's Jhootha Hi Sahi. Ha ha ha, of course, we skipped the Hindi movie. Instead, we went and watched the latest movie directed by Clint Eastwood – Hereafter.
But in the past, we've watched Bollywood movies like Akshay Kumar's humongous piece of trash De Dana Dan at AMC Empire 25.
Regal E-Walk
Located at 247 on West 42nd St right across AMC Empire, Regal E-Walk Stadium 13 & RPX screens most Hollywood movies and occasionally Bollywood movies too. We remember watching Dus Kahaniyan a few years back in Regal E-Walk.
These days, Regal E-Walk does not screen many Hindi films.
The Bollywood action is all at AMC 25.
AMC Empire – Better Deals and Visual Experience
We know all ye cheapo desis are forever looking to buy a Taj Mahal for pittance or get an Aishwarya Rai without the right brideprice.
Head to AMC Empire before Noon and your tickets are a mere $6:00. Ticket prices post-noon are $13.00. Overall, we found the visual experience of colors, images et al better at AMC Empire.
Ticket prices at Regal E-Walk are $13.00 and the same whether it is before noon or after. Unless, you have an Entertainment Book coupon, in which case the price comes down to $9.50.
3D movies cost more at both theaters.
The area near the two theaters is teeming with restaurants and fast food places like Mac, Applebee's, Coldstone Creamery, Tim Horton et al. If you want a caffeine fix, there's a Starbucks right next to Regal. On the day of our visit, Applebees had a deal where the purchase of an entree got you the AMC movie ticket for $7:50.
Bollywood Movies in NYC
AMC Empire 25
234 West 42nd St
New York, NY 10036
Ph: 1-888-AMC-4FUN
Regal E-Walk Stadium 13 & RPX
247 West 42nd St
New York, NY 10036
Ph: 800-326-3264
If you want to check the showtimes at the above theaters, visit Fandango.com or Movietickets.com.