Market researcher Forrester is predicting solid growth in Tablet PC sales in the U.S.
The number-crunchers at Forrester say their earlier estimates of U.S. Tablet sales were conservative and revised their forecast to 10.3 million units for 2010 and 24.1 million units for 2011.
Here's how Forrester sees the Tablet sales and users playing out over the next four years in the U.S. (all numbers in millions of U.S. Adults):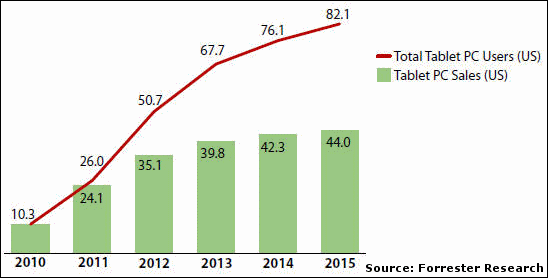 Forrester analyst Sarah Rottman Epp predicts the lion's share of U.S. Tablet sales will be iPads.
[D]espite many would-be competitors that will be released at CES, we see Apple commanding the vast majority of the tablet market through 2012….As for Android tablets, Research In Motion's BlackBerry PlayBook, Microsoft's Windows-based tablets, and tablets that run on HP's and Nokia's platforms, they'll take a backseat to Apple, but in a market this big, there's room for more than one player.
According to Forrester's original estimates made in July 201, U.S. consumers were forecast to buy 3.5 million tablets in 2010 and 8.4 million in 2011.
Tablet sales are seen growing as fast at MP3 players or the iPhone, which means that consumers will replace them as newer models come to the market.
Related Stories:
Tablet Rush ain't No Gold Rush; We Predict Doom