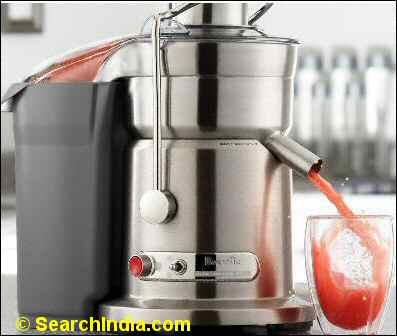 After leading a fairly dissolute life for the most part of our life, we're belatedly discovering the virtues of good health.
Oh well, better late than never.
So, it was from the perspective of boosting our flagging health that we purchased the top-of-the-line Breville 800JXEXL 1000-watt juicer (there are two other less-pricier versions).
We all agree that fresh juice can only do good, right? Maybe even boost our libido, who knows. 😉
We've never been great fans of the mall or street juice stands in NYC, Philly et al – they are costly, they add ice and they don't look too hygienic to us.
Keeping all these things in mind, we ordered the Breville 800 JEXL on Amazon on Tuesday for $289.99 and got it today without any extra shipping charges. Fast delivery, eh.
Neat Packaging
The box left at the door by the UPS guy was huge.
Packaging couldn't be better. There are three concentric boxes in all with  the juicer wrapped in polythene and sitting snugly inside the innermost (third) box.
So, there's little to nil chance of any damage in transit.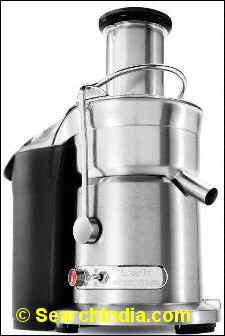 Unpacking, assembling and figuring out the operations of the juicer took about 10-minutes. Not rocket science for yours truly.
For the benefit of the schmucks, a manual is included.
Like most things these days, the Breville juicer is also made in China. 🙁
Robust Juicer
The main piece in the picture (above) is made of stainless steel and obviously very robust. There's also a plastic juice jug (included) that goes on the right beneath what looks like a jutting pipe (see picture above).
The pulp drains out into the black basket (included) on the left. It is best to put a plastic bag into the pulp collector so that it doesn't get dirty.
Besides the red on/off knob, there is a tiny lever that offers two speeds for the motor. You flip it up for lower speed and down to run at full power.
First, we made a quick test run with some carrot pieces and a small piece of tomato and beetroot. It worked fine.
Then we embarked on a full run with 11 carrots, 2.5 tomatoes and a small beetroot.
The company recommends you switch it on and then start adding the fruits/vegetables. But we ignored the suggestion and added a few carrot pieces, started it and then kept adding more. Keep your hand on the top cover as stray pieces can fly out. There's also a plastic piece to push the fruits/vegetables inside. We barely used it.
No Pulp, Divine Juice
Man, the Breville 800JEXL is one mighty beast that pounds away at the stuff inside.
In less than a minute, we had a tall glass of carrot-tomato-beetroot cocktail.
No pulp.
Zip. Nada (we ran our fingers through the pulp in the basket and found it mostly dry and tasteless).
Since we'd added tomato and beetroot as well, there was no need to add any sugar.
Our mildly sweet cocktail was just divine.
Sipping the pure juice was, oh, sheer Sextasy!
Smooth and delicious as the soft-skin of a luscious Bayou belle. 😉
If you have kids and expect them to turn out like Anamika Veeramani or Shivani Sud, then you'd better buy the Breville Juicer.
Fresh juice is supposed to make kids healthy and wise, right?
Are you paying attention, Gandhiji? 😉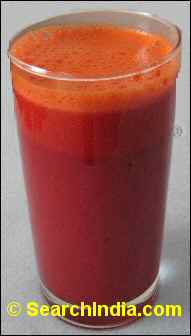 Sextatic Cocktail!
Cleaning up the Breville juicer took about 5-7 minutes since this was our first time.
A convenient to use brush is included to clean the inside portion containing the blade.
Over the years, we've used several juicers, both in India and the U.S.  Nothing, nothing comes remotely near the Breville 800JEXL.
The Breville 800JEXL is the Porsche of juicers. No kidding, guys.
Amaz(on)ing Service
In the time between we placed the order on Tuesday and our getting the Breville Juicer today, the price fell by $30. Something we realized only after we got the juicer today and did a trial run (If you are curious, it's $259.61 on Amazon today).
Being cheapo desis, we called Amazon pronto and in about five minutes managed to get $30 refunded to our credit card even though we weren't entitled to it.
That's what we call superb service.
Now you know why we buy a lot of our stuff at Amazon. 😉
In the not too distant future, we plan to try other juice and vegetable cocktails with our new Breville 80JEXL. We'll be sure to update this post with more pictures and additional notes.
We heartily recommend the Breville 800JEXL juicer.