To those of you who have long suspected that Muslims are breeding at a faster rate than non-Muslims, yes, you are right.
Muslim women, indeed, are putting forth little Rahmans at a faster rate than the Hindus are ejecting little Rams or the Christians are dropping little Roberts onto terra firma.
A new study has put out projections that show the Muslim population growing at twice the rate of non-Muslims over the next two decades – average annual growth rate of 1.5% for Muslims versus 0.7% for non-Muslims.
Muslim population in the world will rise by 35% over the next 20 years to 2.2 billion, according to the Pew Research Center's Forum on Religion & Public Life.
Muslims are projected to account for 26.4% of the world's total estimated population of 8.3 billion in 2030, up from 23.4% of the estimated 2010 world population of 6.9 billion.
The first reason cited by the Pew Research study for the growth in Muslim population is:
Generally, Muslim populations tend to have higher fertility rates (more children per woman) than non-Muslim populations.
In plain English, this means Muslims are breeding at a higher rate than non-Muslims.
For instance, between 2010-2015, the fertility rate for an average woman in a Muslim majority country is put at 2.9 compared to 1.6 for an average woman in a non-Muslim majority more developed countries.
Between 2010-2015, an average woman in Afghanistan is expected to have 6.3 children. Wow, almost like a rabbit. No kidding!
Just like today, the majority of Muslims will continue to live in the Asia-Pacific region (60%) two decades from now too.
The Muslim population in our country (U.S.) will more than double over the next two decades to 6.2 million from 2.6 million in 2010. So expect to see more Masjids in New Jersey, Ohio, Illinois, Nebraska, Los Angeles and all the places in between.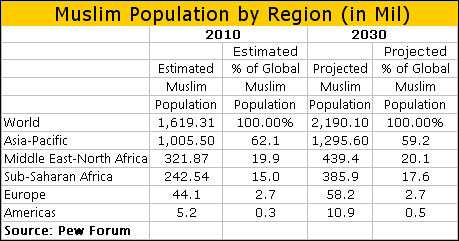 Indian Scenario
Muslim population in India, currently home to the third largest group of Muslims, is expected to approach a quarter-billion by 2030.

Pew Research projects that the number of Muslims in India will rise by 59 million between 2010 and 2030 to 236.18 million, marking an increase of 33.2%.
The increase in Muslim population in India in the coming two decades is second only to Pakistan (78 million).
Says the Pew Report:
Muslims in India continue to have more children on average than non-Muslims, mainly because Muslims' use of birth control still falls below the national average. In 2005-2006, for example, 45.7% of Muslim couples used some form of birth control, compared with 56.3% of couples in the general population, according to an analysis of the National Family Health Survey. [P.76]
While Muslims are spread out across India, they are concentrated in two of the most backward and poorest states: Uttar Pradesh and Bihar, which together account for 35.6% of all Muslims in India.
If you want to know where the bulk of the Muslim population increase will come from in the next two decades, take a deko at the below table: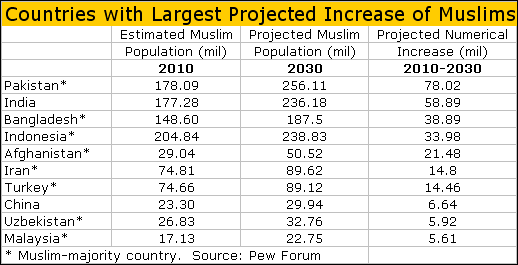 Implications of Hyper-Breeding
In our not-so-humble view, the significant increase in Muslim population could make the adherents of Allah more belligerent, particularly in countries like Egypt and Pakistan where Muslim youth have few opportunities.
After all, strength often tends to come from numbers.
Plus, as other cultures like Christian America and Hindu India increasingly get buried in a consumerist iPodish miasma the political space is likely to be dominated by an Islamic weltanschauung dominated by faith.
Whether the growing numbers of Muslims also portend more violent attacks on Western symbols remains to be seen.