Taste of India is Closed
Delaware on the U.S. East Coast is a depressing place when it comes to a good dine-in Indian restaurant.
Of the many Delaware restaurants we have blessed with our presence, Taste of India on Kirkwood Hwy in Newark is one of the few dine-in places serving decent Indian food with clean ambiance and friendly, professional service.
While there were no standout, out-of-the-world dishes during our visit to Taste of India, much of the food we tasted was flavorful even if it was only mildly spiced.
More importantly, the food had a freshly prepared taste unlike the spoiled food served at Taste of India's ugly neighbor Himalaya.
Even a common fixture like the green chutney had a fresh taste at Taste of India, was flavorful and not freezing cold like in most Indian restaurants.
Piping Hot Samosas, Crisp Pakoras
Samosas and Pakoras were served at the table as they were not ready when we started our lunch. The medium-sized Vegetable Samosa was evenly cooked, crisp and the potato filling fresh and tasty.
Spinach Pakoras were mildly spiced and crisp and we thoroughly relished them with fresh green chutney and tamarind sauce. Nothing like hot and crisp Samosas and Pakoras on a cold day, right?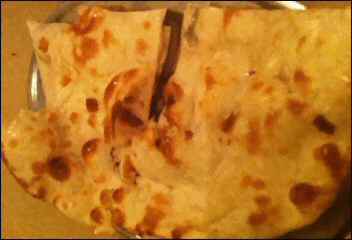 Superb Naan Bread
Creamy, Flavorful Shaahi Paneer
Shaahi Paneer set in a medium thick sauce was creamy, very flavorful and much enjoyed with the piping hot Naan bread served at the table.
The sauce had seeped well into the fried Paneer cubes. Oh, the very thought of it gets us salivating.
While we found the Cabbage Peas fry to be sweetish to our spice-hardened palate, it had a fresh taste and was hot (temperature-wise).
Saag and Dal Makhani turned out to be disappointments. Saag had a raw taste and Dal Makahani was just so so without any seasoning, no different from scores of other Indian restaurants.
Taste of India – Delicious Meat Dishes
Set in a brownish color gravy, Taste of India's Chicken Madras was a tender and tasty delight.
While we enjoyed it with both Naan bread and plain rice, we would have enjoyed it more had it been a tad spicier.
Ditto with Chicken Makhani set in a pinkish red color medium thick sauce.
Tandoori Chicken was juicy and well marinated.
Mildly Spiced Vegetable Pulao and Yummy Naan Bread
Vegetable Pulao with cut beans, green peas and corn was mildly spiced, fresh and hot. We enjoyed Vegetable Pulao with Chicken Madras, Chicken Makhani and Shaahi Paneer.
What gave us the most delight was the Naan Bread, easily the best Naan bread served by an Indian restaurant in Delaware (reminds us of the extraordinary Naan that India House, which closed down in 1999, used to make). First, it was soft and evenly cooked. Second it was oven fresh and served hot at the table. Third, the Naan bread was tasty without any after-taste of fermented flour or burnt marks on the sides or bottom.
Delicious Vermicelli
Vermicelli (Sweet Noodles in Milk) was medium thick, cold but not freezing cold with right proportion of sugar, good quality milk and nice, mild cardamom flavor.
The Vermicelli cast a spell on us so powerful that we took a second helping casting aside all calorie concerns.
Polite, Friendly Service
Indian restaurants in the U.S. are notorious for treating Indian diners badly and it seems to us that the owners have but fantasy – nibbling on the cojones of their White patrons.
Thankfully, the folks at Taste of India are different.
When we walked in around noon on a chilly day, the restaurant was empty. We were greeted by a turbaned elderly Sikh gentleman (owner?). Soon another young waiter with a clean shaven head came out of kitchen and showed us to a table. He politely asked us whether we wanted to order from the menu or go for lunch buffet. Being cheapo desis we preferred the lunch buffet.
While pouring the water he informed us that the Samosa and Pakoras were getting ready and would be added soon. As promised, he brought the piping hot Samosas and Pakoras to the table.
The silverware is kept neatly on a paper table mat and the water glasses were upright and clean. The table itself is covered neatly with a white table cloth and clean. Dining plates, dessert bowls, appetizer plates, spoons were all clean and gave no room for hygiene concerns. The lunch items were neatly placed in clean copper containers in a spacious area and there was ample quantity of food in all the containers.
Used plates were removed promptly and the waiter inquired whether we wanted more bread and served the second set of Naan bread piping hot at the table. He got us our check promptly without making us wait and inquired whether we had taken our credit card back from the black folder.
All in all, we found dining at Taste of India on Kirkwood Hwy (adjacent to Wachovia Bank) to be a pleasant experience, a feeling we rarely get at Indian restaurants here.
SearchIndia.com recommends Taste of India in Newark, DE.