Hooray, Netflix Instant play streaming service is gonna get some competition.
RedBox, the $1 DVD rental kiosk company, plans to roll out a movie streaming service in the U.S. and is scouting for a partner.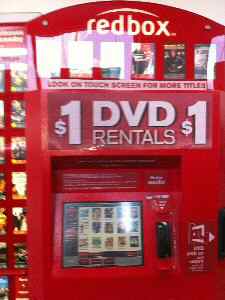 Word on the street is that e-commerce behemoth Amazon.com might end up as its partner.
No word yet on when the RedBox service will debut but the subscription package might include some DVD rentals too from the familiar red kiosks at American supermarkets and convenience stores.
By the way, have you schmucks noticed that Bollywood films are making it to Netflix Instant play very quickly these days.
A couple of days we noticed the recently released Hindi film No One Killed Jessica (Vidya Balan, Rani Mukerji) had already made it to Netflix Instant Play.