When it came to the dark fuckery of the human heart, there seemed to be no limit.
– Stephen King in Big Driver, a novella in Full Dark, No Stars P.194
Of course, we're aware that you anencephalic twits are not going to read Stephen King's last book Full Dark, No Stars (published in November 2010).
Too busy smothering your saliva on the lollipop of some Kollywood or Bollywood star, y'all won't even go a mile near the book.
Be that as it may. And we'll leave you schmucks to your favorite lollipops. 😉
We can't recollect when we read our first Stephen King novel. Surely, it was a long time back.
Most likely, the book was Christine. Remember the deadly car, anyone?
We remember Christine well because we lost it in a Tiruvalluvar Transport Corporation bus and had to buy a replacement copy for the library. 🙁
By the way, if you folks are not familiar with King here's something to jolt your memory: The Tim Robbins movie Shawshank Redemption is based on one of Stephen King's works.
Besides being one of the most prolific authors of our times, King is one of the few authors who's kept the cash registers humming. If you believe his Wiki profile, some 350 million copies of King's books have been sold.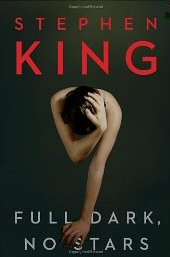 In years gone by, it's possible we may have read a few other novels and short stories by King but we can't recollect any of their names now. Nor are we inclined to search for them in that cavernous hole aka Internut.
The other day we stumbled upon Full Dark, No Stars just as we were rushing out of our local library. We quickly picked it up.
Full Dark, No Stars is a collection of four novellas.
All dark, harsh portraits of ordinary men and women driven to horrific, unimaginable acts that lead to terrible consequences.
The four stories bring out the infinite capacity for cruelty and revenge that lurks in the dark recesses of the human soul.
For all those who think the human soul is largely pristine, may we suggest you cut back on your drinking!
Man's capacity to inflict cruelty on all creatures, human or otherwise, is boundless.
Who can fathom what dark thoughts and dark deeds lie concealed in the human breast.
And do we really know the people we think we know really well?
No, as A good Marriage makes it clear, even our spouses of many decades standing are strangers in some weird, horrible ways.
In order of their appearance in the book, the novellas are 1922; Big Driver; Fair Extension; A good Marriage.
At 131 pages, 1922 is the longest, the darkest and best of the lot.
Set in the second decade of the last century in the rural parts of Nebraska, this is the morbid tale of murder and descent into madness of a poor farmer Wilfred Leland James. There's greater drama in this novella compared to the others because of the ample space the writer has to develop other tragic side stories as well.
Big Driver is more a tale of cold-blooded revenge for a brutal rape.
Fair Extension is a comically cruel piece of fiction.
A Good Marriage is the story of a good marriage turned bad after the wife accidentally makes a horrific discovery.
Our favorites were 1922 and A Good Marriage.
As yours will be, if you relish stark depiction of cruelty and horror in large doses!
That Stephen King writes in a gripping fashion is hardly a revelation. And these novellas are further evidence of the tremendous skills this acclaimed wordsmith brings to his craft.
In his afterword, King acknowledges the inspiration for these stories. One story, A Good Marriage we recognized as owing to the sordid deeds of the notorious serial killer Dennis Rader better known as BTK.
SearchIndia.com recommends Full Dark, No Stars in the certain, and sad, knowledge that not one of you will ever care to pick  it up.