Wrong – India has two national obsessions in Cricket and Bollywood

Right – India has three national obsessions in Cricket, Bollywood and Breeding.
Indian Breeding Frenzy
Folks, the provisional numbers from the Indian government's Census 2011 are out and they are horrifying – India's population has grown by over 181 million during the decade 2001-2011 to 1.21 billion.
* Are India's Hindus and Muslims hell-bent on increasing their respective numbers to wage the coming Holy War?
* Is it the tropical climate that induces Indians into a perennial priapic fury?
* Are bored Indian couples just relentlessly shoving, grinding and thrusting their sweating selves into a population explosion?
* Have Indians not heard of condoms, birth-control pills, IUDs, vasectomy, tubectomy and abortion?
Wateva be the reason, Indians are expelling little Indians out of their wombs at a furious pace.
In the time it takes cricket icon Sachin Tendulkar to hit a century, 3,472 Indians are born. Disgusting.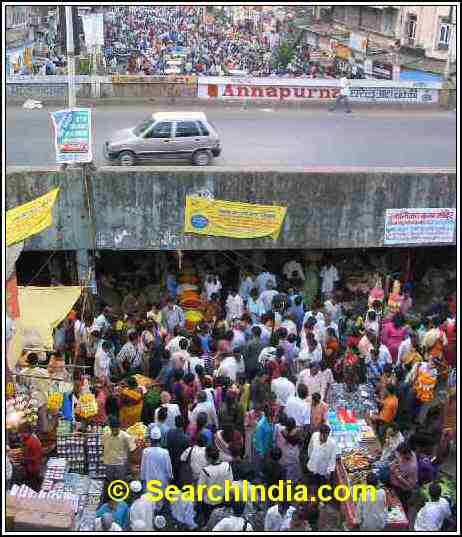 Outside Dadar Station in Mumbai – People, people & more people
(SearchIndia.com: File Photo)
Population Juggernaut Must Stop
This breeding madness must stop.
Right now.
Sanjay Gandhi, where are you when we need you most?
India just does not have the resources to support this kind of population explosion.
Not enough water, not enough space, not enough electricity, not enough jobs, not enough food, not enough trains and buses, not enough houses, not enough toilets, not enough schools, not enough playgrounds.
Truth be said there's just not enough of anything in that benighted land except a plentiful supply of sullen souls.
India is hemmed in by a resource-scarce China in the North that is already damming some of the rivers that flow down to India. This will exacerbate the water-crisis in India. In many parts of India, women already trek long distances for water.
India already suffers from serious energy constraints. Hours-long power outages are the norm in most cities and unendurable in the rural areas.
There's not enough fodder for cattle.
Also, with India unwisely looking at the service sector to fuel job growth the unemployment situation is only likely to get worse in the coming years. Idle minds engage in all kinds of nonsense including crimes like rape, murder, looting and terrorism. Violent crime like rape is already rampant in large cities like Delhi.
India has little choice but to act urgently on the population crisis to forestall grave dangers in the coming decades.
What Needs to be Done
Indians by temperament do not lend themselves to polite requests or persuasions.
Ask these monsters politely to stop engaging in any kind of bad behavior and, at best, they laugh at you and, at worse, lunge at you with a knife, stone or gun. That's the Indian DNA. Nothing you can do about it.
The only language Indians understand is force or compulsion.
So, what India needs to do forthwith is to immediately introduce compulsory sterilization for anyone with one child.
This compulsory sterilization should be implemented for both the father and mother of the child. After all, we don't want the father sowing his wild oats after his wife/girl-friend is sterilized or the wife/girl-friend jumping up and down the car-driver's crown jewels just to have a little Dipu for her Munna to play with. 😉
If India fails to respond to this population explosion with urgency, the future prospects are not just bleak for the country but actually alarming.
Ugly Shitistics
Here are the depressing statistics of Census 2011 as put out by the Indian government today:
* Population: 1,210.19 million
* Population Ratio: 623.72 million (51.54%) males and 586.46 million (48.46%) females
* Population Increase: Over 181 million during the decade 2001-2011
* Population Percentage growth in 2001-2011: 17.64; males 17.19 and females 18.12
* Most Populous State: Uttar Pradesh (199.5 million) followed by Maharashtra with 112 million.
* Total number of children in age-group 0-6: 158.8 million
* Sex Ratio: 940 females per 1,000 men
Hey, what's that loud noise out there?
Just the sound of Mera 1.21 Billion Bharats Mahaan breathing. 😉