Finally, folks.
India's leading newspaper Times of India has at last put out an application for the iPhone (and for the iPad, Android and Blackberry too).
Hey, the TOI App is free. 😛
Given our love for all things Indian, we quickly downloaded the App for our iPhone 4.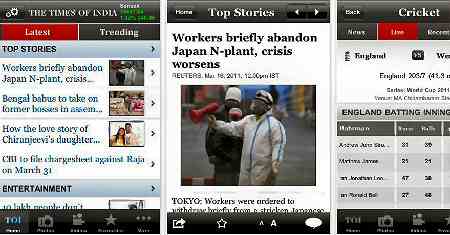 First Glance
The App is elegant with two tabs on top (Latest and Trending) and five at the bottom (Home, Photos, Videos, Favourites and More).
On the Home screen, there's a tiny wheel on top left to change settings and a scrolling BSE, Sensex, Gold Price, Rs marquee on top right.
We tested the app on both WiFi and 3G. The customizable App works fine on both.
Hey, the videos played fine even on 3G.
Main Problem
The biggest issue with the TOI App is that the scrolling up and down on Home screen is not smooth.
We compared the TOI App with other news apps like NYT (old, pre-subscription version), Huffington Post, Bloomberg and AP. With all of them, the scrolling was smooth.
The Times of India folks need to look into this scrolling aspect asap since it's too important from a user perspective.
Highly Customizable
Since there's no one-size-fits-all in life, a good app should be customizable to suit individual preferences.
TOI App scores well here.
The Home Page/Home Screen is customizable and can have up to seven sections. The sections include Top News, Cricket, Entertainment, Business, City (pick from 30 cities), Photos, Videos, Movie Reviews and more.
Movie buffs will love the option to see reviews for Hindi and English movies and read about their favorite stars.
You can adjust the font size for each story. Good.
There's an option in Settings for offline viewing of stories in section. Again customizable, since you can pick which sections you want to read offline. Not very useful in the U.S. since you always have either 3G or WiFi here.
Suggestions
* A pull-release option for Home screen and Section screen to refresh the content would be nice.
* When we are in the Customize section of settings, there is a needless extra step.
Let's explain – You pick which sections you want on the Home Screen by tapping on the horizontal bars and then dragging them up or down. But the TOI App then forces you to save the setting, which we feel is an unnecessary extra step.
The first time, we moved away after dragging and dropping and returned to the Home screen only to find it had not been saved. We had to do it all over and remember to save it.
In the mobile world, lesser the steps the better.
* Change the font color for Sensex and NSE on top right from red to green, white or some other color. Red makes it difficult to read.
* No need for More on bottom of Home Screen since the wheel on top left serves the same purpose, i.e. takes you to the settings.
Its few shortcomings aside, we found TOI App for the iPhone 4 a decent enough app.