The moment our eyes fell on the description The World's Oldest Brewery on the bottle we knew we had to drink Weihenstephaner Hefe Weissbier soon.

How can you not try a beer from a brewery mounting such an extraordinary claim.
So without further ado, we picked up this wheat beer ($3.49) and headed straight for the cash counter.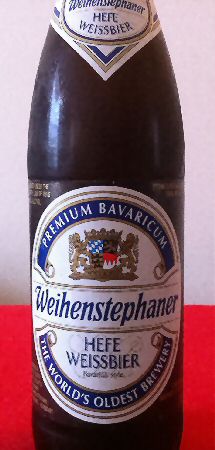 Once we rushed home, we discovered that Weihenstephan, the German brewery behind this beer, has been functioning since 1040 (no typo here).
Well, you can certainly say 971 years is a considerably long time.
Today, the brewery is operated by an arm of the state of Bavaria (in Southern Germany).
Wheat Beer
A golden-orange colored wheat beer, the Weihenstephaner Hefe Weissbier has a slight fruity flavor, a hint of spice, a little sweetish.
An aroma of citrus wafts up when you move your nose to the glass.
Overall this beer has a mild flavor and mild aroma.
Hardly bitter.
On the whole, we'd characterize the Weihenstephaner Hefe Weissbier as a mildish, okayish beer without a strong, defining character.
If you are talking wheat beer, we'd say the Namaste witbier has more character to it with its relatively stronger flavor.
Wile we we didn't go gaga over Weihenstephaner Hefe Weissbier, we wouldn't mind trying it again either.
Along with the beer, we kept munching into a vegetable hoagie filled with marinated carrots, tomatoes, cucumber and Feta Cheese. Was alright with it.
SearchIndia.com recommends Weihenstephaner Hefe Weissbier to those who like their beer without too much flavor or aroma. 😉
Related Content:
Weihenstephan Abbey
Namaste Beer – Go for It, Fellas; Grab a Bottle