Idle Indian minds will drink.
Idle Indian minds will drink anything cold if the weather is as hot as it was in the mid-Atlantic states of the U.S. today.

So, as we were returning from the new Hollywood movie The Lincoln Lawyer, we made a quick stop at the Gujju liquor store and picked up two fairly commonplace beers – the Australian Foster's and the Dutch Heineken – to see which one would cause us the least offense.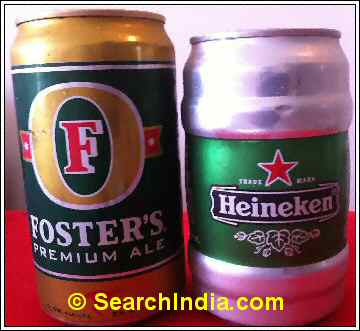 Usually, after we get back from the liquor store we keep the beer in the freezer for just a few minutes to get it really ice-cold.
First, we opened Foster's ($2.25 for the 25.4-oz can).
We kept drinking Foster's, all the while reviewing The Lincoln Lawyer.
Who says we can't chew gum drink Beer and write at the same time. 😉
After we'd finished the Foster's and after completing the review of The Lincoln Lawyer and after listening to the maestro Ennio Morricone, we turned to Heineken.
Our Verdict
Heineken ($2.75 for a 24-oz can) has a better taste, seemed slightly bitterer and packed a overall less cheap flavor.
But it had a slightly, oh, just so slightly chemical odor.
With Foster's, we drifted across a range  of emotions ranging from decent to not great to tasteless. It was not bad like many other cheap bilge we've drunk. Just that it did not seem to have a well defined taste of anything.
Neither of the beer is a strong beer like for instance Arrogant Bastard.
Now, if you schmucks will just disappear, we'd like to listen to Ennio Morricone's hauntingly beautiful, timeless music from The Good, the Bad and the Ugly, For a Few Dollars More and Il Trio Infernale one more time.
And one more time.
And one more time. 😉
Ennio Morricone, we're blessed to have been born in your lifetime!