In the SI lexicon, there's no such thing as a bad chocolate.
Only good chocolates and less good chocolates.
Hell, in moments of desperation we've even been known to crunch into the Hershey trash. 🙁
Chocoholics Forever
Our fondness for chocolate is not a new thing. As far back as we can remember, we've been chocoholics.
Back in India, we were addicted to Five Star (in the golden wrapper), Cadbury Fruit & Nut, Eclair and when very young with the Gold Coin (chocolate shaped like a large round coin and wrapped in a gold-colored foil).
Here in America, the choices are plentiful. Both the young and old here have a fondness for chocolates.
By the way, chocolates are made from the seed of the tropical Theobroma cacao tree (source: Wiki). Apparently, cacao has been cultivated for 3,000 years!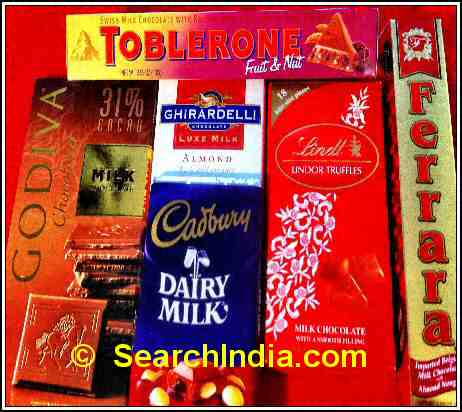 As we were stalking the aisles of our local Walgreens pharmacy, our legs moved of their own accord to the candy counter.
There we beheld rows and rows of luscious chocolates, both American and foreign.
Here's our report from the bunch of chocolates we purchased the other day:
* Ferrara Milk Chocolate with Almond Nougat (Made in Belgium)  – We started our chocolate trip with this Belgian chocolate since we hadn't tasted it before. Not very sweet.  Not creamy. Nuts inside but Almond not coming through. Not a great flavor. $2.19 (3.52oz)
* Toblerone (Made in Switzerland) – This one we'd had on several occasions. Definitely sweeter and far more tastier than Ferrara. Nutty, crunchy with the flavor of honey coming through. Nice aroma too. Overall, we'd rate this the Best of all the chocolates we sampled for the purpose of this post. $2.59 (3.5oz)
* Godiva Milk Chocolate  31% Cacao (Made in Germany) – Sure, we've had the Godivas in past. Usually buy the chocolates in their pretty boxes at the  mall. This time we purchased the candy version. Creamy, tasty, flavor of milk. Good but also the costliest of our test bunch at $4.19 (3.5oz).
* Lindt Lindor Truffle Milk Chocolate (Made in Switzerland) – Strong milk flavor. Not as good as Godiva. Slightly cheapish flavor. $2.89 (3.5oz)
* Ghirardelli  Luxe Milk Almond (Made in USA) – Nutty. Not very creamy. Decent aroma. OK taste. $2.99 (3oz)
* Cadbury Fruit & Nut (Made in USA by Hershey) – Picked this one in a nostalgic moment. We've had this only a billion times in India. Has raisins and nuts. Not creamy. Slightly bitter. Chocolate melts in the mouth yielding cheap flavor. Avoid. $2.19 (3.5 oz)
By our reckoning, Toblerone was the best value for money and also the tastiest.