Chinatown buses are largely an East Coast phenomenon in the U.S.
Their principal claim to fame is that they ferry people between cities at prices so cheap that other forms of transport just can't match them.
These buses are run by Chinese immigrants and operate out of Albany, Boston, New York City, Queens (NYC),  Atlantic City (and other casino centers), Philadelphia, Baltimore, Wilmington,  Washington DC,  Richmond, Raleigh and even as far as Atlanta and Orlando.
The buses usually start and stop by the kerbside in the Chinatown parts of the cities or in the city centers.
The secondary claim to fame of Chinatown buses happens to be the two recent accidents that killed a bunch of people in NYC and injured a few on the New Jersey Turnpike in the second accident.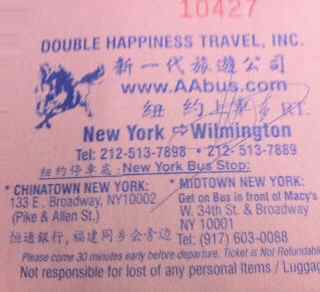 A Chinatown Bus Ticket
Our Experience
We took a Chinatown bus recently from Wilmington to New York City to check out the experience.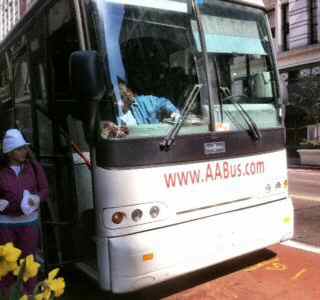 Chinatown Bus parked at NYC @W.34th St
(outside Foot Locker and opposite Macy's)
An Hour Late
Our experience may not replicate that of others. But this is what we found.
We reached the bus stop in downtown Wilmington about 30 minutes prior to our scheduled departure to discover a waiting bus. Apparently, it was the earlier bus and was an hour late!
Unlucky the passengers in the bus. Lucky us.
As we were about to enter the office of the Double Happiness Tour on W.4th St in downtown Wilmington to buy the ticket, an African-American standing near the door told us there was no one inside and the ticket attendant was inside the bus.
Indeed, we found a Chinese guy inside the bus selling tickets. We purchased a round trip ticket to New York City for $35 (one way is $20).
The bus left at 8:23AM and reached NYC at 10:31AM. We'd have reached about 10 minutes earlier but got stuck inside NYC due to some traffic bottlenecks.
Stinking, Unpleasant
The bus had a mild stench, the windows looked as if they were unwashed for a millennium and there was no WiFi or electrical charging points.
By the way, the new Greyhound buses and BoltBus have WiFi and electric outlets to charge your cell-phone/laptop. But fares in those buses are also more expensive.
You can't carry heavy luggage inside the bus and they have to be stored in the luggage container (located on the right-hand side of the bus) before starting.
Seating was cramped and when the African-American woman in front of us pushed her seat back, we suffered for the entire trip. 🙁
After we settled ourselves, we looked around and found that the majority of travelers were Blacks (or African-Americans to be politically correct), followed by Hispanics, Asians (Chinese and Indians)  and finally Whites. There were a couple of Indians on the onward trip and one on the return trip (that is apart from yours truly).
We were not happy when our driver jumped a red light on Rt-13 in Wilmington at the 495-intersection just minutes after we started off to NYC. Also, the bus was rattling.
Some of the aisle seats had plastic trash bags but others did not.
The bus has a toilet at the back but there was no toilet-paper. Really! 🙁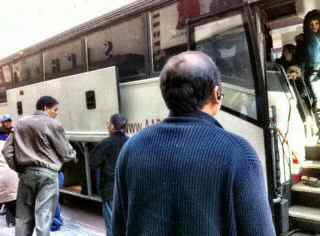 Passengers getting off at W.34th St NYC
When we got down opposite FootLocker (across the road from Macy's) on W.34th St, we asked our Chinese driver where the bus would stop for the return trip. He couldn't communicate effectively and quickly pulled out a schedule. After its midtown stop, the bus then goes on to its final stop in Chinatown (133 E.Broadway).
On the return trip, the bus starts in Chinatown with a boarding point in midtown, outside Macy's on W.34th St.
Our bus started about 21 minutes late (left at 4:51PM) but made it to Wilmington by about 6:55PM. There was not much traffic on the New Jersey Turnpike, it being Saturday.
The AC was not working well during our return trip and it was slightly warm.
During our return trip too, the passengers were mostly Black with a few Hispanics and Chinese and the stray Whites and a few Indians. One desi (no, not us) got into the bus without the printed e-ticket but just with a confirmation number irritating the Chinese ticket attendant.
By the way, if you want a copy of the ticket for your expense report then you'd better take a picture with your cellphone camera because the ticket attendant collects your ticket and does not return it.
Also, our seat's arm-rest was broken during the return trip.
Cheap Fares
On the whole, the Chinatown buses are not pleasant to travel in but, hey, you can't beat the price.
Greyhound is more expensive and Amtrak trains are much more expensive. For instance, on Amtrak a one-way Wilmington (DE)-NYC ticket can cost between $55-$228 depending on the time, whether it's Acela and when you book the ticket.
Just for the heck of it, we checked the Chinatown bus fare for NYC-Orlando (Florida), a distance of 1,100 miles and the ticket was jut $30! Un'f*cking'believable.
With their ticket prices so low and competing travel means unaffordable for many Americans, tis' no surprise that Chinatown buses are doing a brisk business. On both our onward and return journey, the bus was about 80% full.
Chinatown buses, whether you can stand the stench or not, are here to stay.