Rama Navami starts today, according to the wise folks at Wikipedia.
And as we were scrolling through our image collection of Hindu Gods, we couldn't help but wonder whether Rama, his wife Sita, devoted brother Lakshman and Rama's faithful soldier Hanuman really looked like their depiction in the below photograph?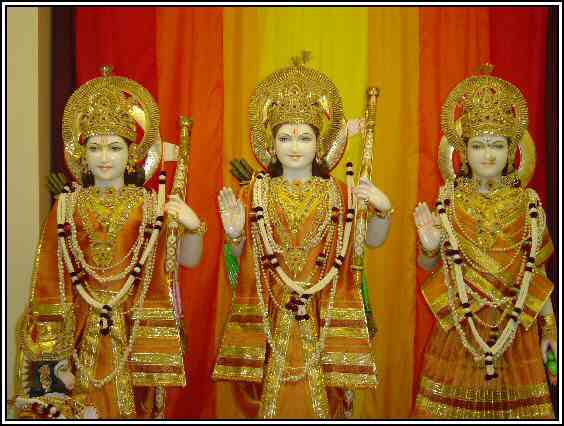 Rama (center), Lakshman (left) and Sita ((right) with Hanuman (kneeling)
Special Request: If any SI reader has seen Rama, please do let us know if there's a resemblance between the person you saw and the image (middle) above.
We've tried hard to catch a glimpse of Rama all these years but the fella's been quite elusive. Maybe, he's a little shy or, perhaps, he doesn't like U.S.-based bloggers.
By the way, Rama Navami marks the celebration of Rama's birth to King Dasarath of Ayodhya and his wife Kausalya.
India's Hindus, both in the North and in the South, celebrate the festival in a big way accompanied by recitations of Ramcharitmanas, taking out procession of Rama's deities in the streets, singing Bhajans, distribution of Prasad and drinking of Panakam (a juice made from jaggery, pepper powder and cardamom).