Last night, we were planning to embark upon the IMDB 250 odyssey that we mentioned to you all a few days back.
But in a last second reversal, we decided to watch the Chinese movie A World Without Thieves instead.
Boy, are we glad that we changed our mind.
Every schmuck knows about the IMDB 250 but how many of you yokels have heard of A World Without Thieves.
Answer us, putzheads. We're talkin to y'all.
Never mind, that was just a rhetorical question. 😉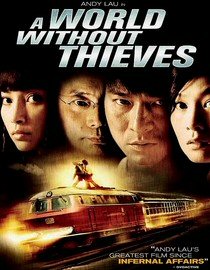 (Image: Netflix)
Sheer Class
A World Without Thieves is an object lesson to both aspiring movie-makers and veteran movie buffs that in the hands of a good screenplay writer, a fine cameraman and a gifted director, a simple story can reverberate on the screen louder and more powerfully than the greatest of stories!
Directed by Feng Xiaogang, A World Without Thieves is a simple but superbly told moral tale of touching innocence encircled by evil.
Two packs of wolves will stop at nothing in their relentless bid to prey upon and destroy innocence represented by Dumbo (Wang Baoqiang), a 21-year-old guile-less monastery construction worker, who naively believes there are no thieves in the world.
Dumbo is going home with 60,000 yuan in his satchel, a fact he loudly advertises right at the train station firm in his conviction  there are no thieves in the world.
But unbeknownst to Dumbo on the same train are two packs of wolves, who are constantly machinating new ways to separate Dumbo from his hard-earned money.
The first pack is a criminal gang  headed by the menacing Uncle Li and the second is a young couple Wang Bo (Andy Lau) and Wang Li (René Liu).
Packs a Lot
Much of the events in the movie happen on the train and the lens turns its attention mostly to evil, the two gangs eying the satchel, and to the struggle between the two groups for what seems like easy money.
In 100-minutes, A World Without Thieves packs a lot and offers so much.
There's fast and furious action, there's fine humor, there's touching emotion and there're even a couple of twists when Dumbo's innocence converts some of his pursuers into his protectors. Diverse elements deftly integrated into a highly engaging film by a master director.
And, yes, there're tragic moments too for, after all, we live in a world where no good deed ever goes unpunished. 🙁
If the solid screenplay and fine photography were all that were to A World Without Thieves, we wouldn't have bestowed such high accolades on it.
Solid performances by Andy Lau, Rene Liu, Ge You, Li Bingbing and Wang Baoqiang lift this movie to a higher plane.
Male viewers will easily fall for the beautiful Rene Liu and Li Bingbing while the distaff sex will be drawn to the dashing Andy Lau.
The movie is based on a novelette by Zhao Benfu. Kudos to the screenplay by Zhao Benfu, Feng Xiaogang, Wang Gang, Lin Lisheng and Zhang Jialu.
Fittingly, A World Without Thieves has received several awards/nominations.
As with nearly everything else, the Chinese are ahead of India in the film business too.
The Chinese films we've seen are all infinitely more watchable than the Bollywood and Kollywood trash we subject ourselves in moments of self-flaggelation.
Must Watch
Your favorite blog SearchIndia.com strongly recommends A World Without Thieves.
Netflix subscribers can watch A World Without Thieves on Instant Play.
Yes, the Mandarin film comes with English subtitles.
Now that we've enjoyed A World Without Thieves, we plan on seeing director Feng Xiaogang's other movies.