Any Indian-American worth his Green Card or his passport knows what a Tandoor is.
If you don't, we suggest you take the next flight boat home.
Tandoors are clay ovens used to make the most delicious Indian food like Naan bread, Chicken Tikka, Tandoori Chicken, Mahi Tandoori, Haryali Chicken Tikka, Tangri Kabab and other divine Indian fare.
Open the menu of any Indian restaurant and you'll find a lengthy list of items prepared in a Tandoor.
But the Tandoor was mostly an item for large commercial establishments like Indian restaurants or catering outfits.
At least until lately.
However, an American entrepreneur Ron Levy who used to make Tandoors for restaurants has launched a Tandoor for home use called, appropriately enough, Hōmdoor (pronounced home door).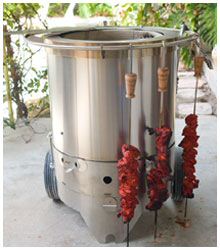 Hōmdoor
Made in Ohio
The Hōmdoors are being made in partnership with a ceramics company in Uhrichsville, Ohio.
The first Hōmdoors have already rolled out and Levy plans to make 500 units this year.
Bravo!
Here are the specifications for the Hōmdoors:
* Hōmdoor has a 13-inch opening to make it easy to place your hand inside the hot tandoor when cooking Naan
* Clay has been pre-heated to 2,000° for durability, strength and creation of a sanitary surface
* Hōmdoor is made of the same clay used in commercial tandoors
* Insulation is bonded & pre-heated onto the tandoor to provide unparalleled strength, durability, fuel efficiency & heat distribution
* Charcoal version includes charcoal grate and ashtray
* Propane version has been specifically designed
* Gaddi comes with removable, washable cover
* Easy to operate and the 10-inch wheels allow for mobility outdoors
Be warned though that the Hōmdoor doesn't come cheap.
Pricing starts at $1,200.
The New York Times has a piece on Tandoors and their home equivalent.
Here's an excerpt from the NYT piece:
The searing heat and smoke, and moisture-retaining properties of the tandoor, make it equally effective for roasting meat on vertical skewers, a delicacy mentioned by the Indian surgeon Sushruta as early as the eighth century B.C. Shah Jahan, the Mughal emperor who built the Taj Mahal, held the tandoor in such high esteem he had a portable metal model constructed to take on his travels.

In spite of its ancient origins and utter simplicity, the tandoor produces startlingly sophisticated results, including smoky flatbreads that puff like pillows, and roasted meats of uncommon succulence.
Besides India, Tandoors are also used for cooking in Azerbaijan, Turkey, Iran, Armenia, Terroristan Pakistan, Uzbekistan, Afghanistan, the Balkans, the Middle East, Central Asia, Burma and Bangladesh (source: Wiki).