A hot classy torrent of talent like Jennifer Lawrence deserves a hot Indian tribute (If you're one of those headless Indian wonders, Jennifer is a 2011 Best Actress Oscar nominee for her non pareil performance in Winter's Bone).
So, SearchIndia.com in peerless ishstyle devised the perfect tribute for Jenny Baby – a hot Indian curry that we're lovingly christening Jenni-Chilli Aloo.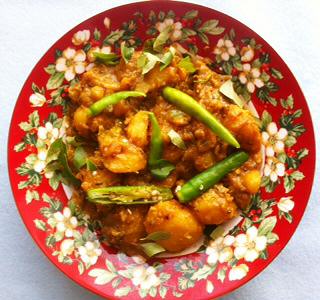 Jenni-Chilli Aloo
Jenni-Chilli Aloo is as sexy, cool and divine as the muse that inspired it.
Designed to tickle your palate and, ahem, other parts of your anatomy as well, Jenni-Chilli Aloo is a spicy SI original.
Just as the sight of the Hollywood babe sent a frisson of delight pulsing through our veins, the first bite into Jenni-Chilli Aloo swept us into an euphoria of ecstasy.
Jenni-Chilli Aloo is spicy, tangy and slightly sour (in a bow to Indian Chinese cuisine).
But not so spicy that your eyes start watering or you body begins pouring out sweat. And, no burning sensation on the tongue either.
It's smooth as Jennifer's flawless skin (now, don't ask us how we know), delicious as her lips (again, don't ask us questions) and luscious as her body (didn't we tell you not to ask questions not to question our fantasies) with the medley of Indian spices seeping deep into the potatoes.
Why a potato-based curry, you schmucks may ask?
Hey, don't you all think that Jennifer herself is a wee-bit plump. You know, just the right size for desis!
Wonder how she will look in a Sari. Drool, drool. 😉
Jennifer may be big everywhere but small potatoes have always been our favorite. Big may be bountiful but 'tis easier to get a small potato into your mouth. 😉
Many summers back, when the ozone level in the atmosphere was far less than now we used to fry small boiled potatoes, add red chilli powder and enjoy them as a late afternoon snack.
But this time we boldly decided to embark on virgin terrain.
Here is SearchIndia.com's sui generis recipe for Jenni-Chilli Aloo:
Jenni-Chilli Aloo – Ingredients
1) Half pound small white Potatoes
2) One medium size Onion
3) One small Green Pepper (Capsicum)
4) Four table spoons of Channa Dal
5) 15 Curry Leaves
6) 15 Green Chilli
7) One and a half-inch piece of fresh Ginger
8 ) Two table spoons Olive Oil or Cooking Oil
9) One and half table spoons Jeera
10) One table spoon Mustard seeds
11) About 12 Methi seeds
12) Three table spoons of Soy Sauce
13) One and a half table spoons of Balsamic Sweet Vinegar
14) Quarter table spoon of dry Red Chilli Powder
15) Quarter table spoon of Turmeric Powder
16) Small bunch of fresh Cilantro or Coriander leaves
17) One cup water
18) One table spoon salt
Jenni-Chilli Aloo – Getting There
1) Wash and boil the small potatoes in thick bottomed vessel with plenty of water for 30 minutes or until they become soft. Potatoes should be completely submerged in the water. You can check by plunging a fork into the potato whether it is cooked or not. Peel the potatoes and keep it aside.
2) Soak the Channa Dal in water for 30 minutes.
3) Finely chop onion and green pepper and keep them aside.
4) Take a Kadai with thick bottom, add oil and heat until it's hot. Put the gas flame in medium and add Jeera, Mustard, Methi seeds, five Curry Leaves and allow them to sputter. Once they start sputtering, add chopped onion first and then green pepper. Close the Kadai with a tight lid and cook on medium flame.
5) While the onion is getting cooked, drain the water from Channa Dal and add it to the mixie jar along with 12 pieces of Green Chilli, Ginger, 10 Curry Leaves and Soy Sauce and grind it until it becomes a fine smooth paste. Add a spoon of water if the paste gets stuck in the mixie jar for smooth texture.
6) Add the masala paste to a glass bowl and then mix Vinegar and dry Red Chilli Powder.
7) Add peeled Potatoes to the Onion and Green Pepper and then sprinkle Salt, Turmeric Powder and mix thoroughly and cook for two minutes with the lid closed on a medium flame.
8 ) Add the masala paste to the potatoes and mix thoroughly. Add water slowly and mix until you get a gravy texture. Cook on slow flame for 10 minutes by closing the Kadai with the lid.
9) Slice the remaining green chillies vertically and chop the Cilantro leaves. Sprinkle half portion of chopped Cilantro leaves on top of the Potatoes and switch off stove.
10) Close the Kadai with lid and allow Potatoes to absorb all the spices for 10 minutes. Then, mix the Cilantro leaves into the curry.
11) After 10 minutes, add the sliced green chillies and the remaining cilantro leaves as dressing and serve with Chapati, Roti or Naan bread.
Serving Size – Sufficient for four people.
Some Tips:
* Make sure you don't add more than 12 Methi seeds. If you add more, your Jenni-Chilli Aloo will turn out bitter. 🙁
* You can add a half cup of green onion along with green pepper. We were out of green onion and fell short of cilantro leaves. So we used chopped curry leaves for dressing as well. Sliced green Chilli dressing is optional for those of you with a faint heart.
* Adjust the salt to your spice level.
* Do not boil the potato in those Indian Pressure Cookers as they'll get overcooked. Boil 'em directly on the stove.
Jenni-Chilli Aloo is just divine with Rotis, Chapatis and Naan but not that great with plain Rice.
If you are the fantasizing kind when it comes to Hollywood babes, we suggest you keep a bottle of ice-cold Guinness Extra Stout handy.
If there were an Oscar for Indian curries, Jenni-Chilli Aloo would have no contenders!
Related Stories:
Winter's Bone Review – May the Plague Strike You if You Don't Watch It
Jennifer Lawrence – Wiki Profile