Let the Gurujis and other clowns say what they will, but the people have spoken.
When it comes to tablets, the people want Apple's iPads or nothing.
We couldn't agree with them more.
After using the iPad 2 for a couple of months, we confess this widget is our new inamorata, in bed and out. 😉
From watching live Indian TV to catching up on news from the Times of India and the BBC to reading books from the British Library to watching Netflix movies, the iPad lets us do a lot.
Consumers have fallen so much in love with the iPad that they give the cold shoulder to all other tablets.
A new survey put out today by wealth management firm Robert W. Baird makes it clear that for consumers the iPad is the only tablet that matters. The rest are irrelevant.
They might as well not exist.
The below chart says it all.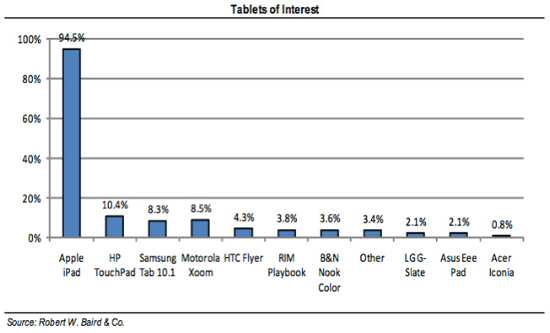 Here's an excerpt from the New York Times piece on the new study:
According to a report issued on Wednesday, consumers who already own or plan to buy a new tablet are only interested in one thing: the Apple iPad.

The report, which was published by Robert W. Baird, a Milwaukee-based wealth management and analyst company, was conducted through a survey of 1,114 people, 98 percent of whom lived in the United States.

More than 50 percent of those surveyed, who were between 22 and 60 years old, said they already owned a tablet or were interested in buying one soon, with 95 percent of these respondents choosing the Apple iPad.

Although survey participants were allowed to pick multiple tablet choices, only 10 percent chose the Hewlett-Packard TouchPad as their tablet. A mere 4 percent said they would buy Research in Motion's new BlackBerry tablet, the PlayBook. The Acer Iconia tablet, which runs Google's Android software, barely scored 1 percent among survey participants.
Related Posts:
Holy Moley Me, Oh My, the Apple of My Eye Peddles 9.25m iPads in 3rd Quarter
iPad 2 Review – SI Buys the Only Tablet Worth Buying
Some Nice iPad Apps for Indians