We haven't stopped laughing over Samsung's plight.
Against the almighty power and popularity of Apple's iPad, Samsung's Galaxy Tab 10.1-inch tablet has no hope in hell.
Yes, no hope even after $100 or more in discounts.
Now, in what seems like a desperate effort to get the Samsung Galaxy Tab 10.1 off the shelves it will be offered gratis aka pukkat to buyers of Samsung 46″ Class LED 1080p Smart 3D HDTV or a 55″ Samsung TV with a 3D Starter Kit at Best Buy in a limited time promotion.
The free Samsung tablet promotion runs from August 21-27.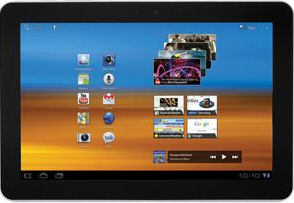 Samsung Galaxy 10.1 – Hard Times

Samsung has stopped releasing shipment figures for its Galaxy Tab.
But given the discounts and strong consumer resistance to non-iPad tablets we have not the slightest doubt that the Android-based Galaxy Tab 10.1 is a market disaster.
By the way, Apple sold 9.3 million iPad in its last fiscal quarter.
No, we don't believe this 'free' offer will give the Samsung Galaxy Tab 10.1 a fillip. Au contraire, it'll only cheapen the brand value of the Samsung Galaxy Tab 10.1.
Hey, who has respect or value for a free Tablet?
Virtually every one of the non-iPad tablets is struggling to win consumer acceptance in the face of the Apple iPad juggernaut.
Just yesterday, HP killed its TouchPad tablets, a mere 49 days after launching following a poor market reception.
SearchIndia.com recommends that you say 'No' to any non-iPad tablets.
Related Posts:
Does Size Matter? Will an Extra 3-Inches Change the Samsung Galaxy Tablet's Destiny?
Holy Moley Me, Oh My, the Apple of My Eye Peddles 9.25m iPads in 3rd Quarter
iPad 2 Review – SI Buys the Only Tablet Worth Buying
Some Nice iPad Apps for Indians