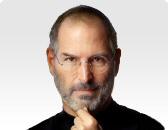 Friends, Schmucks and Über-Schmucks, the world as we all have known it for decades is ending.
Darkness has descended on the planet.
It's with a heavy heart that we bring you the sorry news that the Messiah I-Messiah of Digital America aka Steve Jobs has stepped down as CEO of Apple, the company he co-founded over three decades back.
No, this is not a rumor. Head for the nearest shelter before the Android beasts can get you.
Steve Jobs – Greatest Achievement
Steve Jobs' greatest achievement is that he single handedly prevented the American people from rising in revolt against their oppressive, moronic, and occasionally sexual depraved rulers by keeping them preoccupied with his iMac, iPod, iPhone, iPad, iTunes and I-whatnot devices.
Steve Jobs along with Steve Wozniak, founded Apple in 1976. Except for a brief period when John Sculley booted him out of his own company, Jobs has been guiding the destiny of one of the world's most successful companies.
You don't believe Apple is one of the most successful companies in the world? Then explain to us how Apple has $75 billion in the bank. Hello, we're waiting for your explanation.
Jobs was elected Chairman of Apple's board today.
As if God needs the halo of a Chairman's title or the embellishment of a degree (Steve never got a degree).
Is Steve Dying
Apple did not disclose why Steve Job was stepping down.
But the wise souls at SI suspect the man's dying.
Hey, look at Steve's health record.
The man has hardly been the epitome of good health. He had pancreatic cancer, which he supposedly beat, and liver transplants.
Then there was the long leave of absence earlier in the year.
Plus, there is this sentence from Steve's letter to the Apple board and community today:
I have always said if there ever came a day when I could no longer meet my duties and expectations as Apple's CEO, I would be the first to let you know. Unfortunately, that day has come.
Steve Jobs and Neem Karoli Baba
Like a lot of White Americans dodos in the 1960s and 1970s, Steve Jobs was eager to get to the bottom of the meaning of life.
So Steve packed his bags and came to India in 1974 to meet and understand life from Neem Karoli Baba (no, we're not kidding).
Alas, Karoli Baba kicked the bucket before Steve landed in India and we presume our digital messiah never got to the bottom of the meaning of life. Never mind. Who knows Neem Karoli Baba, had he been alive when Steve arrived in India, might have told him to take Sanyas (renunciation of the world) in Rishikesh, Hardwar or one of those stupid Indian Hindu towns in the Himalayan foothills.
A distraught Jobs then wandered around India for a few months and returned to California.
So, there you have Steve Jobs' India connection.
New Man at the Helm
By the way, Tim Cook, previously Apple's Chief Operating Officer, has been named as the company's new CEO effective immediately.
The big question now is whether Tim Cook can keep the flame burning bright.
The stakes are high, very high. And several hundred million eyes will be watching every step the new CEO takes.
We can only hope Tim Cook will not do a Gerald Ford (the idiot American President who couldn't even walk straight and kept stumbling).
Big Question – Will the Music Stop Now?
SI has always believed in the Great Man theory of History.
Schmucks, we don't have the time to educate you on the theory. Look it up here on Wiki.
True, the new CEO Tim Cook has been by Jobs' side for several years now. As COO, Cook was previously responsible for all of the company's worldwide sales and operations, supply chain, sales activities and service and support.
But Uncle Steve was always there to guide him.
Who remembers Churchill's World War II generals now? Winston 'Blood Sweat and Tears' Churchill inspired the troops just as Steve roused the employees at Apple.
We strongly feel that in the absence of the heroic figure Jobs, it's bound to be hard for the company to retain its mojo.
Steve Jobs was a ruthless sonavabitch. But he was the man for Apple.
We suspect Apple will enter a phase of steady but unspectacular growth like the current Microsoft for a few years and then who knows what might happen.
Even if the company introduces new products, without the catalyzing brilliance of Steve to push it to the millions they'll amount to mere sound and fury signifying nothing.
If Steve Jobs' greatest success was to catapult Apple to the top of the digital media world with decent products like iPod, iPhone, iPad and iTunes then his greatest failure was to identify the company too closely with himself.
God, Please Let there be Light!