Any one who's ever used a netbook knows what a pain it is to type on the small cramped keyboard.
So when we espied an ad in the Staples flyer this week peddling a Logitech Wireless Keyboard K360 for $15 (50% off) we didn' t think twice.
Hey, the same keyboard is $30 at BestBuy and $27.51 at Amazon.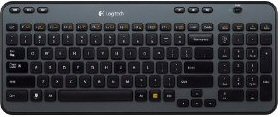 Logitech K360 Wireless Keyboard
– Nice Deal at $15
Off we headed over to Staples and got ourselves two of these K360 wireless keyboards yesterday.
Besides the keyboard, the box also contains a small USB receiver that you plug into your netbook or laptop, two AA batteries, installation guide and a three-year-warranty note.
The keyboard's dimensions are 6.5 x 1.8 x 15.6 inches and it weighs 1.8 pounds.
Opening the K360 box and setting it up took no more than a couple of minutes with our Windows XP-based Asus netbook.
Once we plugged the USB receiver into the USB port of our netbook, the drivers were automatically installed and our keyboard was ready to use.
Hey, remember to pull the Yellow/Black strip on the back of the keyboard to ensure that the batteries in the keyboard sit in place.
Sure, the K360 is not as big as our Logitech Internet Navigator desktop keyboard and the keys are not as comfortable to use but they are way, way better than working on a netbook keyboard.
The keys on the Logitech K360 are quiet and the keyboard itself is light. No, it's not foldable.
For those who thrive on technical specs, the Logitech K360 uses 128-bit AES keyboard encryption and 2.4GHz wireless connectivity.
By the way, the Logitech K360 also comes with enhanced F-keys and Hot Keys for media navigation, volume adjustment and mute.
The enhanced F-keys lets you do a whole bunch of things without recoursing to the mouse. Stuff like launching an Internet browser (Fn+F1), e-mail application (Fn+F2), Media Player (Fn+F4), Show Desktop (Fn+F6) and Calculator (Fn+F12).
Yes, we tried the enhanced F-keys mentioned above and they work fine.
The volume increase/decrease and mute also worked fine on a YouTube video but we didn't try the media navigation feature (i.e. Play, Stop, Rew and FF) since our netbook lacks a DVD player.
Hey, we're typing this entire post on the Logitech K360.
No sweat!
For $15, the Logitech K360 is a decent product and you can't go wrong.
Your favorite blog SearchIndia.com recommends the Logitech Wireless Keyboard K360 to all ye cheapo desis in America.
Just remember that the 50% deal on the Logitech Wireless Keyboard K360 is valid at Staples only until September 3, 2011.