Anyone who believes in the existence of a God has a screw loose.
But some nutjobs have several screws loose.
Why?
Because nutcases make asses of themselves with their public prayer rituals, not to mention inconveniencing the public.
Last week, as we were walking around the Upper East Side of Manhattan we saw a Muslim cab driver take out a small carpet, unroll it right on the sidewalk (at the intersection of E.70th St and 5th Avenue) and start praying.
The carpet was rolled out at an odd angle, presumably to let the man pray in the direction of Mecca.
And all these happened while the cab was parked right next to a fire-hydrant, a violation of New York City traffic laws. 🙁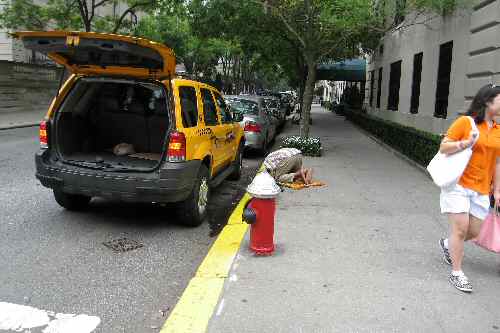 Muslim Cab Driver Praying Opposite Frick's Collection, NYC
(E.70th St & 5th Ave)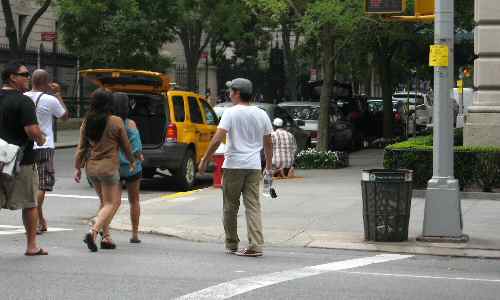 Muslim Cab Driver (in white cap) Praying on Upper East Side Sidewalk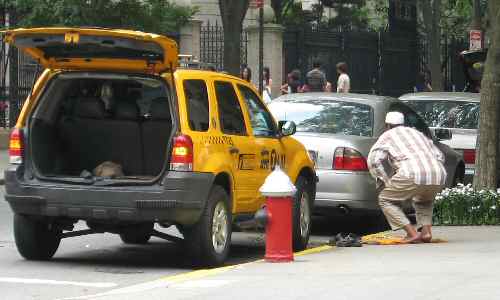 Allah-o-Akbar?  Muslim Cabbie Rising after Praying on NYC Sidewalk
(E.70th St and 5th Ave, near Central Park)
We strongly urge New York City Mayor Michael Bloomberg to pass rules to prevent people from rolling out carpets and praying on the city sidewalks.
If Muslims, Christians, Hindus or Jews want to pray, it must be in the privacy of their homes or at a place of worship.
Prayer must not be on the NYC sidewalks inconveniencing and irritating pedestrians.
If you allow this public praying nonsense, tomorrow some of these nut-jobs will bring a Lamb or Goat and insist on a public sacrifice on 5th Avenue to celebrate Bakrid and the day after that only Allah knows what they'll demand.
America's freedoms must not be abused.
Will Saudi Arabia, United Arab Emirates or Pakistan allow a Christian, Jew or Hindu to pray on the public sidewalks inconveniencing pedestrians?
Hell , No!