Oh yeah, SI is jumping on the Amazon streaming bandwagon.
Like millions of Americans, we too are hopping mad at the Netflix bastards for hiking their fees by a whopping 60% for customers on the DVD+streaming plan.
So when we read Amazon CEO Jeff Bezos' note today on the e-commerce web site that the company had inked a deal with Fox to expand its streaming portfolio, we decided to give Amazon streaming aka Amazon Prime a shot.
Plus, it's free for the first 30-days and you can cancel it before the trial period ends without paying a penny. 😉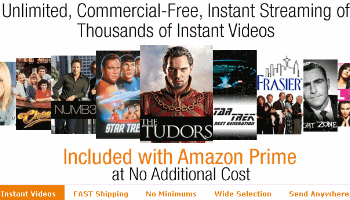 The Fox deal expands Amazon's Movies and TV shows on its streaming platform to 11,000 titles. Still limited compared to Netflix' 30,000 plus movie and TV titles but we expect Amazon will ramp up its offerings soon if it intends to stay in the game.
New additions from the Fox library include 24, Arrested Development, The X-Files, Ally McBeal, Buffy the Vampire Slayer, and The Wonder Years.
Amazon Prime streaming, which debuted earlier this year, now has deals with CBS, NBCUniversal, Sony, Warner Bros and Fox.
The Catch?
The catch, at least for cheapo desis here who insist on everything free, with unlimited Amazon instant streaming is you have to fork out $80 a year.
But the $80 also gets you free 2-day shipping on Amazon purchases. So, if like us you're already an Amazon customer making multiple purchases a year it's not that shabby a deal.
Works out to about $6.67 a month and that's not including the benefits of 30-day free trial and two-day shipping.
Amazon Streaming Quality
Amazon streaming, like Netflix streaming, works on multiple devices (set-tops, Roku, gaming consoles, some TV models etc).
Setting up our Roku player to work with the Amazon streaming service on the Samsung TV took about five minutes. You first sign up at Amazon.com on the PC. Then go to the Roku box/TV set. Add Amazon to your channels. Get a code. Enter the code on the PC/Amazon web site. Voila, you're set.
Since we already had an account with Amazon, it was probably easier because we didn't have to add our credit card and address details.
But there are some issues with Amazon streaming. Mainly, to do with the menu.
The Amazon streaming selection is broadly classed into four categories – Top Movies, Top TV, Movie Genres and TV Genres.
For both movies and TV, there's a bunch of genres like Action, Comedy, Drama etc and you can also search for a title. A big pain with Amazon streaming is that there's no queue like Netflix.
We hope Amazon fixes its streaming menu.
After a quick scan of the titles, we picked the 2009 Israeli film The Assassin Next Door (starring the Bond girl Olga Kurylenko) directed by Danny Lerner.
To test the service, we watched the movie for a few minutes.
There were no issues with the quality of Amazon streaming directly to TV (via Roku) and we plan to watch the full film later this evening.
We suspect Amazon will bundle its streaming service with the tablet it's expected to launch Wednesday.
Now, if only there were a way to watch Amazon Prime streaming on our iPad 2 that would be really nice.
Related Posts:
Amazon Instant Video Movie Collection Still Piffling