Holy Cow!
Break the coconuts, sound the Tabla, play the harmonium.
Sing that Badwa-Randi song Chamak Challo. 😉
Yea, three NYC Indian restaurants have won the coveted Michelin star.
The 2012 Michelin Guide for New York City restaurants has added Tulsi, Junoon and Tamarind Tribeca to its prestigious list.
Each of the Indian restaurants won a single star. Still a big event.
By the way, a single star means A very good restaurant in its category.
Last year, not a single Indian restaurant made it to Michelin's starred list.
In the 2012 Michelin NYC guide, of the thousands of restaurants in NYC a mere seven won the highest 3-stars, nine restaurants scored 2-stars and 46 got 1-star.
NYC Indian Michelin Stars
Here's a brief profile of each of the NYC Indian Restaurant stars:
* Tamarind Tribeca – NYC restaurateur Avtar Walia's newest creation, the 10,000 square feet two-level, 175-seat Tamarind Tribeca is located at 99 Hudson Street.
The restaurant won two-stars from New York Times' Sam Sifton last year.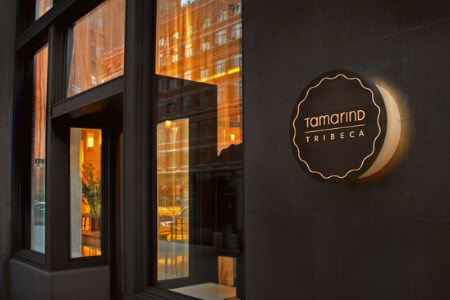 (Picture Courtesy: Tamarind web site)
Here's an excerpt from Sifton's review:
In London, where marvelous Indian food is as much a part of the culinary landscape as French restaurants or steakhouses are here, Tamarind Tribeca might rate a pleasant shrug. But in Manhattan, it is shaping up to be the best thing to happen to Indian food since Hemant Mathur and Suvir Saran opened Devi in 2004.

The menu is more extensive than at Tamarind's Flatiron branch. Under the direction of Peter Beck, the restaurant's executive chef, it sprawls: cooking from Punjab, Goa, Hyderabad, Madras, Calcutta and Lucknow are all represented.
* Junoon – Located at 271 W.24th St, Junoon is the brainchild of NYC restaurateur Rajesh Bhardwaj.
Vikas Khanna is the Executive Chef.
In March, Sifton gave Junoon two stars.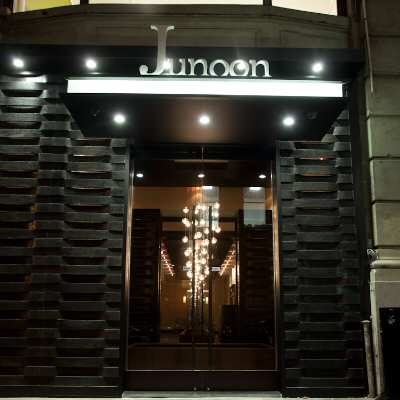 (Picture Courtesy – Junoon NYC Web Site)
* Tulsi – The creation of Hemant Mathur, Tulsi at 211 East 46th St has won mostly favorable reviews from food critics.
Mathur is a veteran on the NYC Indian restaurant scene and previously cooked at Dévi, Amma, Tamarind and Diwan Grill.
The NYT gave Tulsi a single star in March.