After several years of living in America, we most definitely knew our adopted land was a nation of many crazies, whackos, fruitcakes and screwballs.
How else can you explain the popularity of Glenn Beck, Fox News, Cheerleading, Eric Cantor, Baseball, Sarah Palin, Tattoos and the Superbowl.
Come on, which sane person sports a tattoo or jumps up and down jiggling her tits because some big, fat zombies are engaging in another weird act, playing College Football in which you carry the ball and run.
But even we, yes, we, the immensely wise souls at SI never realized the extent of craziness that lurks beneath the Hi, How are You masses here?
A new study has put out the disturbing conclusion that nationally, 44.5 million adults in America aged 18 or older experienced mental illness in 2010. This works out to a rate of 19.7% of the adult population.
Well, this means that every fifth person we see in the U.S. is some kind of nut-job.
No, we're not making up these 'crazy' numbers.
The study was conducted by Substance Abuse and Mental Health Services Administration (SAMHSA), an agency in the U.S. Department of Health and Human Services.
Remind us never to visit Rhode Island because that northeast state had the highest number of crazies at 24.2%.
Maryland had the lowest at 16.7%.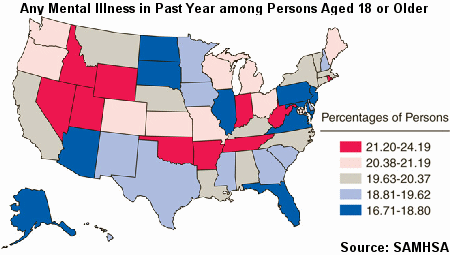 Serious Mental Illness
The study found 10.4 million adults aged 18 or older (4.6% of that population) experienced a serious mental illness in the past year with rates ranging from 3.5% in Hawaii to 7.2% in Rhode Island.
Arkansas, Idaho, Rhode Island, Utah and West Virginia had the highest rates for both serious mental illness and any mental illness.
We definitely believe that the really, really crazies hail from Arkansas.
After all, Bill Clinton hails from Arkansas.
Yeah, the same dickhead who was busy in the Oval House inserting his cigar into Monica Lewinsky's twat and then shoving it in his mouth or shoving his dick into her mouth, all while he was talking to Senators and Congressmen on the phone on matters of national importance. Or, maybe he was ordering his generals to bomb Bosnia while he torpedoed and unloaded in that bombshell Monica's mouth. Hell, if that's not serious mental illness nothing else qualifies for crazy.
Alaska, Maryland, North Dakota, Pennsylvania, South Dakota and Virginia had the lowest rates across both measures.
Alaska, we have a hard time reconciling with low rates of crazies.
In our not-so-humble opinion, Sarah Palin alone has more craziness in her than all the 9-million crackpots in New York City.
Scary, Really Scary
Now comes the really scary part.
Over 62% of those with mental illness in the U.S. did not receive any treatment.
So, the rather worrying conclusion is that there are a lot of weirdos out there who wont think twice before pushing you into the path of a subway train or mowing you down in a hail of bullets.
According to SAMHSA Administrator Pamela S. Hyde:
Mental illnesses are treatable and people can recover to live full, productive lives. Unfortunately in the past year only 37.9 percent of adults with mental health problems received any type of care. The chasm between need and care is costly both in terms of personal health because of missed opportunities to prevent disability and health care expenditures related to illness such as cardiovascular disease, diabetes, and obesity.
What is Mental Illness?
You schmucks might well ask, what is mental illness.
SAMHSA's definition of mental illness is based on diagnostic criteria in the Diagnostic and Statistical Manual of Mental Disorders (DSM, 4th edition).
Any mental illness among adults aged 18 or older is presence of any mental, behavioral, or emotional disorder in the past year that met DSM criteria.
Among adults with a disorder, those whose disorder caused substantial functional impairment (i.e., substantially interfered with or limited one or more major life activities) are defined as having serious mental illness and the most urgent need for treatment.
So, the next time you Chutias dream of making it to this El Dorado of dollars and girls look at the above headline again.