For the second holiday season in a row, American kids 6-12 are lusting for the iPad more than any other product, according to a Nielsen survey.
For the 2011 holiday season, the iPad has increased its appeal with this age-group.
Nearly half (44%) want an iPad this year compared to 31% last year.
The second and third most wanted products were also Apple devices, iPod Touch (30%) and iPhone (27%).
Only 25% of the kids looked forward to a non-iPad tablet, computer or Nintendo 3DS gaming device.
Barring the iPad, all other tablets are faring miserably in the market with few takers.
After a pathetic reception from consumers, HP jettisoned its tablet business and disposed off the remaining inventory in a fire-sale for $99.
Despite a steep starting price of $499, the Apple iPads are selling briskly.
Take a deko at the Nielsen figures below: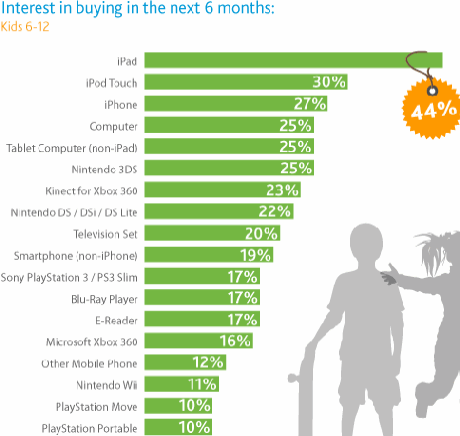 What About Older Kids
For kids in the 13+ age group too, the iPad is the most desired product.
The Nielsen study shows 24% of kids in this age group drooling over the iPad this holiday season compared to 18% last year.
Computers and e-readers were salivated over by 18% while both non-iPad tablets and TVs found favor with 17% of the kids 13+.
We've played around with most of the major tablets and none of them come anywhere near the iPad in ease of use, finesse and quality.