There is no such thing as "Indian food." It's a fabrication of the West. Each state has its own regional cuisines: Maharashtra, Gujarat, Bengal. And then even the states have subcategories — there's coastal Maharashtrian, inland Maharashtrian, Muslim-influenced. Sadly, what most of the world knows today as Indian food is bastardized, trivialized — tandoori chicken, black dal, everything deep-fried. And it's just a shame that many Americans will only experience it in some buffet line in New Jersey.
– Famed Mumbai chef Rahul Akerkar in Wall Street Journal, November 23, 2011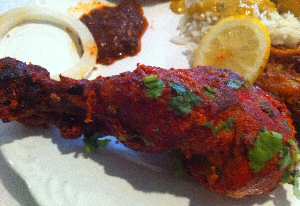 Tandoori Chicken – A Fixture at Most
Indian Restaurants in U.S
Rahul Akerkar is right.
Most Indian restaurants in the U.S. are a disgrace serving food unfit for humans or animals.
Whether they're run by South Indians or Punjabis, most Indian restaurants in the New Jersey-New York City region serve unpalatable inedible food.
And we say that with cockiness because we've dined at over 100 so-called Indian restaurants in NJ and NY.
Some of the worst offenders are Bhojan and Dhaba in NYC, Saravana Bhavan in West Windsor (NJ), Flavors of India in Columbia (MD) and Rangoli in Chantilly (VA).