You are a jailbird.
You decline the police suggestion to become a stool pigeon.
You get out of jail.
You owe $1 million because of your late father's debts.
You see your sister being pimped out.
You steal a car.
You're caught in flagrante.
You are screwed, screwed, screwed, royally screwed.
No Choice, Really
Now, what choice do you have other than to succumb to the police inspector's pressure to become a Stool Pigeon and pass on information about your criminal buddies!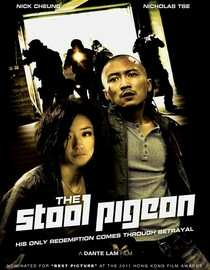 Yes, The Stool Pigeon (2010) is a Hong Kong action film centering around a stool pigeon Ghost (Nicholas Tse) and his police handler Inspector Don Lee (Nick Cheung).
Directed by Dante Lam, the movie debuted in 2010 and met with a fairly positive response.
Deadly Business
Being a stool pigeon is no joke and the movie brings out well the enormous risks involved in being a stool pigeon (informant, in plain English).
The police is never your friend.
And the bad guys are paranoid, forever suspecting your bonafides or worse still, consider you a stool pigeon working to betray them to the police.
The bigger the criminal activity, deadlier the risk and the chances of the stool pigeon ultimately meeting a gory end is near 100%.
And the money you get from the police is often a pittance considering the enormous risks you are undertaking.
Like Ghost, the principal character in this movie, most criminals turn stool pigeons by force of circumstances.
Rarely out of choice.
When Ghost is nabbed stealing a car, he has no choice but to become an informant on the activities of a deadly gang planning a big jewel heist.
The group is led by a vicious criminal Barbarian (Lu Yi) who'll stop at nothing to get the gold. Even if it means killing his own people.
The story, even if it's not a spellbinder, is engaging.
In keeping with its action-crime genre, the movie is fast paced.
Nicholas Tse as the stool pigeon and Nick Cheung as Police Inspector Don Lee throw in decent performances.
While not being completely predictable, you do have a strong sense as to how it'll ultimately end. And that's the way it eventually does.
Unfortunately, two or three sub-plots distract from the main story and do not really add much to the movie.
Also, given the title of the movie we found it odd that the story should be more from the perspective of the police inspector than the stoolie.
As with many Asian crime films, the violence in Stool Pigeon is bloody horrific involving a lot of stabbing and slashing with swords and knives.
We found the photography adequate but the tension-filled moments were inadequate given the subject.
Its inadequacies aside, SearchIndia.com still considers The Stool Pigeon to be a watchable film. Should you care to watch it, the Cantonese movie is on Netflix Instant Play with English subtitles.