For all you schmucks who think America is passing through a grueling recession, we have some news for ya.
The supposedly down on their luck Americans have already spent $31 billion online in the first 46 days of the holiday season, a 15% increase over the same period last year, according to comScore.
And mind you the holiday season ain't over and we're not counting brick-and-mortar sales.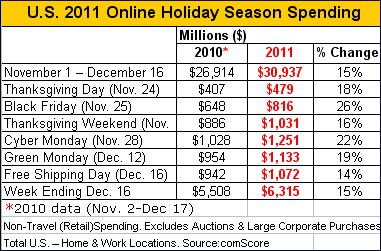 Black Friday and Cyber Monday witnessed a 26% and 22% rise in sales this year.
The comScore number crunchers estimate that the most recent work week (Dec. 12-16) saw four individual days surpass $1 billion in spending, led by Green Monday (Monday, December 12) with $1.13 billion and Free Shipping Day (Friday, December 16) with $1.07 billion.
comScore reckons that with the heaviest portion of the season behind us, Cyber Monday (November 28) will likely rank as the biggest online spending day of the year for the second consecutive season.
Free shipping has been a major driver of online shopping in the 2011 holiday season shopping as well, just as it has been in recent years.
comScore thinks discounts and free shipping may have been 'frontloaded' during the earlier portion of the 2011 holiday shopping season compared to last year.
What are They Spending On?
comScore does not address the question of what consumers are buying online.
But given human folly and the acquisitive impulse of this era we can hazard a guess that much of the online spending is on useless, frivolous junk like iPads, iPods, big-screen LED TVs, perfumes and the like.
All of which we can comfortably live without. But, alas, we don't in our reckless march of folly.