It's no secret that here at SI we love Apple products, be they the iPod, iPhone, iPad or now the ….
Although our love affair with Apple is only a few years old, it's chugging along nicely.
Here's the chronology of the SI-Apple amour:
SI's dalliance with Apple commenced in a humble way with a small $79 clip-on iPod.
A few years later, SI flipped for the charms of the iPhone 3G.
By 2009, SI was head over heels in love with the iPhone 4.
In 2011, SI swooned over the beguiling attractions of the iPad 2.
At the dawn of 2012, SI is seduced by the infinite appeal of the magnificent iMac 27-inch i5 quad-core desktop.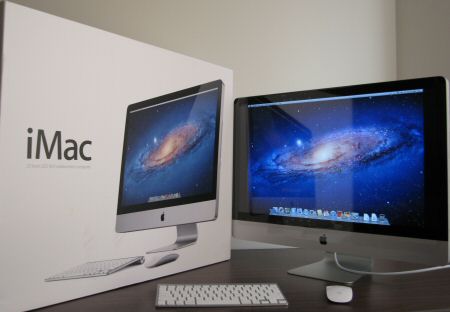 27-inch iMac – Front View
Helpless Slave to Windows
For over two decades, we remained a silent, helpless slave enchained to the Windows millstone on our desktop and laptop.
Uncomplainingly, we took every punishment Windows handed out – the frequent blue screens of death, disappearing files, countless viruses, trojans and malware, blank screens, endless updates, sudden rebooting, incompatible programs, corrupted files and other whiplashes far too many to recount here.
So deep were the scars of cruelty inflicted by the satanic Windows that we hungered for a savior just as you schmucks drool over fantasies of a night with Katrina Kaif, Vidya Balan, Sonam Kapoor and other Bollywood pets.
A Thing of Beauty
Finally, SI summoned the courage to boot, we mean boot out, Windows and welcome the all-in-one iMac powered by the OS X Lion into its boudoir.
We thought long and hard about the various Mac options – the i5 dual core processor Mac Mini is $565-$599 but comes with 2GB of insufficient RAM. No keyboard, no mouse, no monitor. Just a power cord and a HDMI-to-DVI cable.
Add another $39 for 8GB RAM, $300 plus for a decent 25-inch monitor with HDMI, $69 for a mouse and $69 for a wireless keyboard and you're looking at an investment of over $1,000.  Plus, Mac Mini is a dual-core system. To cut a long story short, we abandoned the idea of a Mac Mini.
Next, we pored over the various MacBook models.
None of the MacBooks appealed to us.
The MacBook Air we didn't like because of the limited storage and lack of a DVD drive.
MacBook Pro didn't find favor with us on grounds of price and reports of battery issues.
Although we must admit that we briefly considered the 15-inch MacBook Pro with 4GB RAM and 500GB hard drive. But the price of $1,710-$1,800 turned us off.
If that's not a ridiculous price for a 15-inch screen system, we don't know what is.
Finally, we looked at the all-in-one iMac desktops.
We were set on the 21.5-inch quad-core i5 iMac with 500GB, HDDD and 4GB RAM ($1,125-$1,199 depending on where you buy) at first.
But after seeing the beauty of the huuuuuge 27-inch screen iMac (Model – MC813LL/A) we changed our mind.
Also, since we watch a lot of movies it makes sense to have a bigger screen for those moments when you don't feel like watching it on the TV.
iMac Specifications
Our 27-inch iMac (MC813LL/A) is majestic and leonine in its specifications.
* OS X Lion Operating System
* 2.7GHz quad-core Intel Core i5 processor
* 1TB of storage (7,200 RPM)
* 4GB RAM (expandable to 16GB)
* Radeon HD 6770M graphics card with 512MB RAM
* Beautiful Resolution of 2560 by 1440 pixels
* Built-in WiFi
* Built-in FaceTime HD camera
* Four USB ports, two Thunderbolt ports, Firewire 800 port, Gigabit Ethernet port, Headphones, audio out
* Stereo speakers
* Wireless Keyboard
* Wireless Magic Mouse
* DVD drive
* SD card reader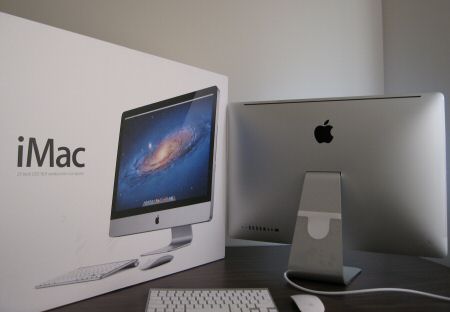 iMac – Back View
Setting Up the iMac
Once we got the iMac home, getting it up and running was a no-brainer.
The big box contains just four things – the iMac, power cord, keyboard and mouse.
Once you plug the power cord into the wall and turn on the iMac via the button in the back bottom left corner, a set-up wizard walks you through the process including setting up a WiFi connection to get on the Internet.
Sure, a PC too comes with a set-up wizard but we don't remember seeing steps for WiFi or migrating data (from older systems) on the Windows desktop.
It took no more than 10-minutes since we skipped some steps (like migrating from the older PC/Mac).
And the hole in our wallet – $1,600.00.
Ports Galore
The iMac has enough ports to meet your various requirements although they're a little too close to each other.
You can plug in your external backup drives, flash drives, headphone or other devices at the back.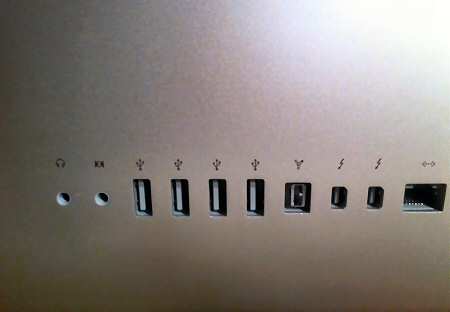 Thunderbolt, USB, Ethernet & other Ports on the Back
Wireless Keyboard – A Pussy
One of the few aspects of the iMac that we were less than impressed was the keyboard.
The good part of the keyboard is that it's wireless.
The bad part is that it's so puny.
We are used to a massive Logitech keyboard with our Windows PC and having a difficult time orienting ourselves to the small-sized keyboard.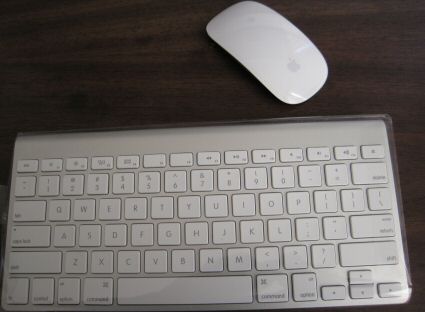 Wireless Magic Mouse & Keyboard
The mouse is cool though.
You can even go back and forward without clicking on the web pages.
Scrolling up or down is cool with just the movement of the finger on the mouse.
Built-in Wireless
Setting up a WiFi Internet connection was a breeze since there was no need for a separate WiFi card.
It was one of the steps in setting up the iMac and took no more than a few seconds.
We picked the preferred WiFi network from the list thrown up by the iMac, entered the password and, hey, we were ready to ogle at every babe in the online world!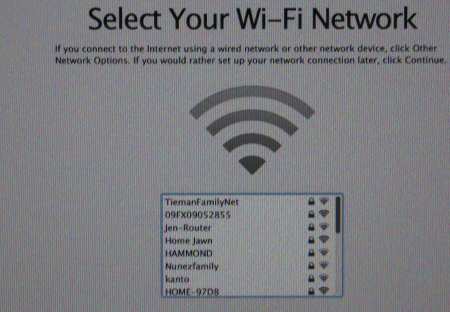 Wireless Setup Screen
What about Netflix?
No, Netflix does not work out of the box on the iMac.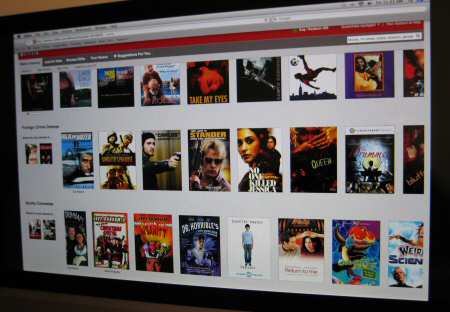 Netflix on iMac Safari Browser
The first time you log on to Netflix and try to watch a movie the site prompts you to install Microsoft Silverlight software and provides a convenient link.
It took no more than two or three minutes even for Mac novices like us to figure out the download and installation process.
Once we installed Silverlight, Netflix instant play videos streamed smoothly via a WiFi connection.
YouTube Needs a Flash Update
YouTube videos too don't play out of the box.
When you click a YouTube video the site asks you to download the latest version of Flash.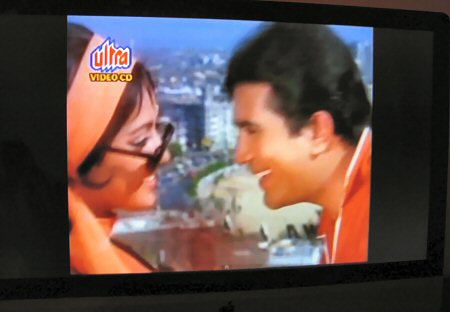 Rajesh Khanna & Hema Malini in Andaaz – Youtube Video
In a couple of minutes, we downloaded and installed the Flash.
Soon we were up and singing Zindagi Ek Safar with Rajesh Khanna and Hema Malini on a motorbike from the old Hindi film Andaaz.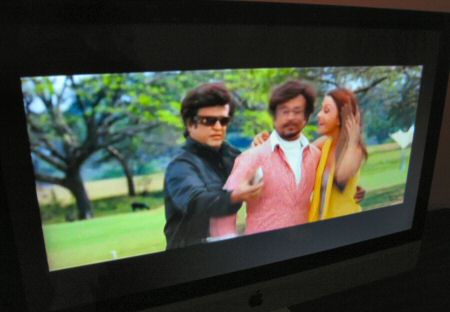 Beauty & the Beasts in Endhiran- Youtube Video
Mac App Store
Like the App Store for the iPhone, iPad and iPod touch, Apple has set up an App Store for the Mac as well.
Launched at the beginning of 2011, the Mac App Store already has thousands of apps in multiple categories.
We briefly explored the Mac App Store and downloaded the Kindle App. Once you log in to the Kindle app, you'll find all your previous purchases (from other devices like iPad, iPhone etc) right there.
There are plenty of good apps like EverNote at the MacStore.
iMac – Bottom Line
Of course, like any desi we're distressed over the iMac's ridiculous price and think it should have been at least a thousand bucks less.
What we'll probably add in the coming months is 8GB RAM and AppleCare ($131-$149 depending on where you buy it) for three years of hardware/software protection and telephone support. Without AppleCare, you get only 90-day phone support and one-year hardware/software protection.
So far, we're pleased with the iMac.
We've browsed the net, streamed movies off Netflix, watched a few YouTube videos and 'purchased' some free stuff off iTunes.
The system is fast and the display looks gorgeous.
We're still smooching the system and as we discover its many delights we'll update this post.