Thank God for Chinese restaurants.
Edible food at cheap prices that can satisfy even the cheapest desi cheapskate comes only from a Chinese restaurant.
When our in-house Annadata (food provider) went on a flash-strike today, we gave praise to the Lord for letting the Chinese Migrants come to our shores.
So what if the Chinese accents are unintelligible – Yooo wah hah sau translates into Would you like hot sauce in normal English. 😉
With rare exceptions, the food at most Chinese restaurants is edible, cheap and, hey, occasionally even palatable.
Chicken with Garlic Sauce & Pork Fried Rice ($5.50)
Although labelled as spicy on the menu through the use of red-color, the Chicken with Garlic Sauce and Prk Fried Rice we had a short while ago at the local Chinese restaurant was anything but.
Mercifully, it still turned out to be flavorful.
Once we added the hah sau (hot sauce), the taste was enhanced by 10X.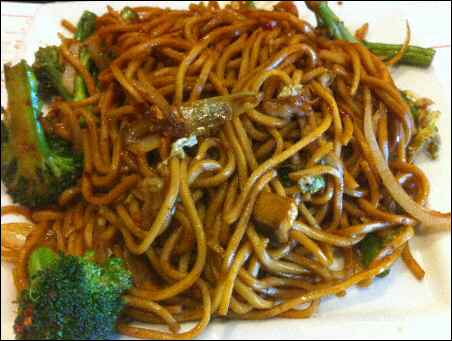 Vegetable Lo Mein ($5.50)
Vegetable Lo Mein was spicy but we wouldn't put it in the flavorful category.
Maybe, we were hankering after the Indian-Chinese version. 🙁
Considering we paid a mere $24 for the above plus takeout of Vegetable Fried Rice and Vegetable Lo Mein, we're not complaining much.
By the way, if there's a bigger bunch of cheap bastards than Indians it must be the Chinese.
Some 15-minutes into our lunch, the Chinese waitress came along to check with us about the food and stealthily removed our drinking straws (for water) that were lying unopened.
Of course, being cheap Indian bastards we waited two minutes and asked for a straw. 😉