In our ever persistent zeal to find a spicy exhilarating meal we occasionally explore other cuisines especially Thai and Mexican.
Just like our Indian cuisine, Thai and Mexican cuisines are known for spicy food.
The other day we were early for a movie at Rave Motion Pictures Ritz Center in Voorhees, New Jersey.
So we decided to put the extra time to good use by doing what we do best – eating. 😉
We quickly headed to the Eagle Plaza mall adjacent to the Rave Motion Pictures Ritz Center exploring the restaurant options. Our eyes fell on an Afghani and a Thai cuisine restaurant.
We picked Bangkok City Thai restaurant as we were not so much in a Kebab mood.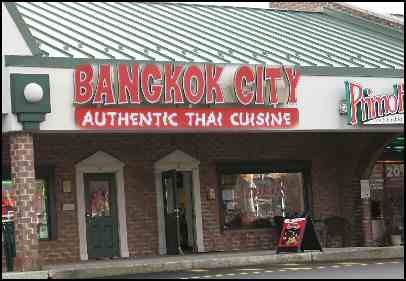 As we entered around Noon, Bangkok City was bubbling with activity and there were already seven diners in various stages of their meal.
Greeted by a smiling lone waitress, we were quickly shown to a table.
The same lady got us the water and lunch specials menu.
Bangkok City Thai Lunch Deals
The lunch specials Bangkok City are priced at $7.95 for a regular entree and $8.95 for a special of the day.
Both come with a choice of soup plus an appetizer or salad and an entree accompanied by rice.
Since we are not so much into eating salad on a chilly day, we chose soup plus an appetizer for starters.
Our order included Veggies Roll, Tom Yum Hot and Sour Vegetarian Soup, Panang Vegetarian Red Curry with a special request to make it spicy/hot for the herbivores in our group.
For the carnivores, we ordered Giew Grop for appetizer, Tom Kah Coconut Milk Chicken Soup and Kiew Warn Chicken Green Curry again with a special 'hot' request.
Our soups and appetizers were delivered within eight minutes of ordering followed by the entree.
While we were impressed by the quick service, the way our order got botched up at the delivery infuriated us. More on this later.
Bangkok City Thai – Vegetarian Lunch
On the whole our rating for Bangkok City Vegetarian Lunch is Good.
Tom Yum Soup was sour but not obscenely sour and hot temperature wise. It included Tomato, Mushroom and Green Onion slices.
Veggie Roll was crispy as promised and we finished it quickly using the red chilly paste and honey sauce that came with it.
While Tom Yum Soup and Veggies Roll were good, the best item of our Vegetarian Lunch was the Panang Red Curry.
With a medium thick red color sauce, Panang Red Curry was spicy but not so spicy as to bring tears to our eyes.
A mèlange of Tofu, ridged Carrot slices, Broccoli, Cauliflower crowns, Red Pepper, Tomato and Cut Beans, Panang Curry was delicious with small serving size of Jasmine Rice and a slice of Orange.
What added allure to Panang Red Curry was the red chilly and spicy, tangy taste of Vegetables.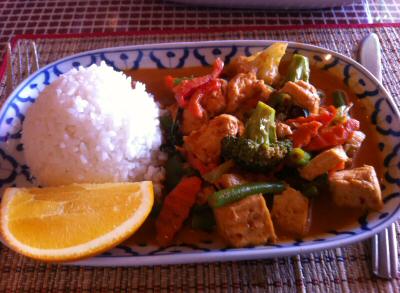 Tasty Panang Red Curry with Jasmine Rice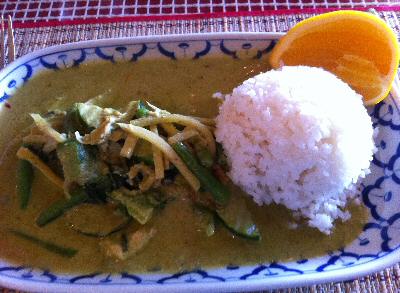 Kiew Warn Chicken Green Curry

Bangkok City Thai – Chicken Lunch
Tom Kah Soup was creamy with Coconut Milk flavor and quite tasty. Besides Chicken pieces, it included Tomato and Green Onion slices.
Giew Grop was crispy as promised by the menu.
Set in a light green color medium thick gravy, Kiew Warn Green Curry with Chicken found favor with us.
It came with a mèlange of Chicken, green vegetables like Cut Beans, Zucchini, Broccoli, Vegetable Stalk, sliced Red Pepper, Orange fruit slice and Jasmine Rice.
While Kiew Warn Green Curry with Chicken was good it did not really tickle our spice hardened Indian palates.
We even wondered whether our 'hot and spicy' request ever made its way to the kitchen staff.
Bangkok City Thai Cuisine – Careless Service
While we enjoyed the two entrees Panang Red Curry and Kiew Warn Green Curry with Chicken, what infuriated us was the way the waitstaff botched up our Vegetarian Lunch Order.
And if you think, the waitstaff at Indian restaurants are indifferent to paying diners, you haven't seen how insensitive and deaf waitstaff at other restaurants can be.
You see we placed the orders for vegetarian and chicken lunch items separately and with a special request to make sure that they do not get mixed up while serving.
But, much to our distress, the Bangkok City Thai restaurant waitress never paid any attention to our request.
While we may not call it intentional we would surely put it in careless category.
The restaurant was not crowded and had just about seven diners (i.e. apart from us).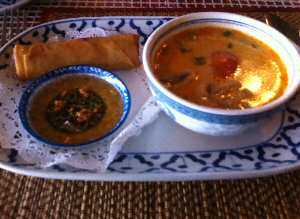 Botched Up Order – Veggie Roll with
Tom Kah Chicken Soup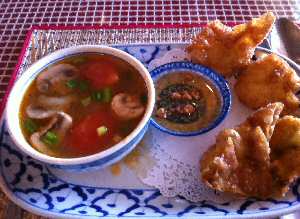 Botched Up Order – Tom Yum Veg Hot & Sour
Soup with Giew Grop Non-Veg Appetizer
You see the herbivores in our group were served Tom Kah Chicken Soup and Veggies Roll appetizer and the carnivores with Tom Yum hot and sour Vegetarian soup along with Giew Grop Chicken appetizer leaving us at first baffled and then furious.
As we dug deep into the soup to take a spoonful, we noticed white pieces looking like Chicken at the bottom.
Although we were mad, we did not confront the careless waitress as we had to rush to the movie.
Bangkok City Thai Voorhees, NJ – Our Rating
Price Range – Under $9.00 combo lunch specials
Food Taste – Good with moderate spice level
Service – Friendly initially and careless later
Vegetarians – Check & confirm whether you are served what you ordered
All in all Bangkok City Thai restaurant on Haddonfield-Berlin Road in Voorhes, New Jersey offers value loaded decent lunch special deals.
But avoid Bangkok City Thai if you are a pure vegetarian like some in our group.
For the waitstaff at Bangkok City Thai are either hard of hearing or turn careless upon receiving the order and do not give a damn for paying diners' Vegetarian orders and requests.