It's safe to assume that the majority of people of Indian origin living in the United States are either Hindus, Sikhs or Muslims.
After all, these three religions account for about 97% of India's population.
And most people of Indian origin in America have come primarily from India (along with small numbers from Uganda, UK, Surinam, Trinidad, Guyana etc).
Few Indian Churches
Christians account for about 2.3% of India's population and their numbers in the U.S. also presumably reflect this low number.
There are far more Hindu temples, Sikh Gurdwaras and Mosques in the U.S. than Indian churches.
Not all Indian Christians in the U.S. visit Indian churches.
Some Indian Christians are keener on participating in activities of mainstream American churches in hopes of finding better opportunities there. 😉
U.S. Census & Religion
Unlike censuses in other countries (India, Canada, UK etc), the U.S. Census is prohibited from asking questions on Religion because of a 1976 law.
Now that's silly because that way we'd have known how many schmucks live in Amreeka.
Readers of this fine blog well know SI's avowed faith in the non-existence of any such thing or creature called God, whatever be his, her or its supposed name.
As a matter of curiosity, a little while back we embarked on a search on the numbers of Hindus, Sikhs and Muslims living in our adopted homeland.
When it comes to religion, there's never unanimity.
If you can be sure of anything in life, it's the lack of consensus on even the smallest thing when it comes to religion.
Still, setting aside the disputes we arrived at some numbers concerning the population of Hindus, Sikhs and Muslims in the United States.
Hindus in U.S.
Hindus in America numbered 1.48 million, according to an oft-cited U.S. State Department Study United States Department of State's International Religious Freedom Report 2004.
That worked out to about 0.5% of the then U.S. population.
Hindu temples are ubiquitous across the American landscape.
From Washington state in the Northwest to Florida in the Southeast and in between, the American landscape is dotted with dozens of Hindu temples.
Here's a prominent Hindu temple in California: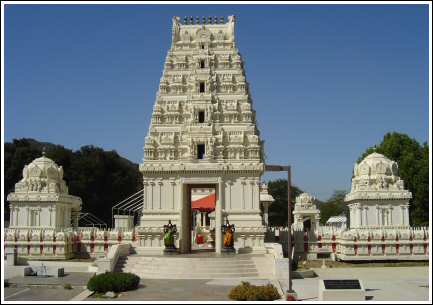 Malibu Hindu Temple, Los Angeles
Sikhs in the U.S.
With their distinctive attire of turbans and beards, Sikhs are the most easily identifiable of all Indians.
They're also the most easily confused by Americans because the 9/11 mastermind Osama bin Laden was also given to wearing a turban.
Sikhs have been emigrating to the United States for nearly 100 years now.
Some of the earliest Sikhs came to Central California in the 1900s where they worked on farms.
The first American Gurdwara is said to have to come up in 1906 in California.
Estimates of Sikhs in America range from 500,000 (Sikh Coalition) to as high as one million (United Sikhs).
Sikh Gurdwaras, while not as ubiquitous as Hindu temples, are also to be seen across the breadth of America.
Here's a picture of the Pittsburgh Gurdwara on a cold winter day: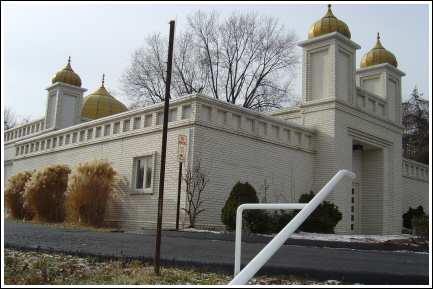 Pittsburgh Gurdwara, Pittsburgh
Muslims in America
Based on a study of attendance at mosques, the 2001 Bagby et al study of the Council of American-Islamic Relations estimated the number of Muslims in America at 6 million-7 million.
However, other studies have put the Muslim population in America between 2 million-3 million.
Unlike Hindus, the majority of whose origins are from India, Muslims have come to America from diverse places including India, Pakistan, Bangladesh, Iran, Turkey, Somalia, Albania and other European nations etc.
There's some concern that the Muslim numbers in America may be under-estimated in the post-2001 era.
Given the horrific attacks of 9/11 by a bunch of Islamic terrorists (mostly from Saudi Arabia and Egypt) Muslims are less likely to disclose their religious affiliations in surveys.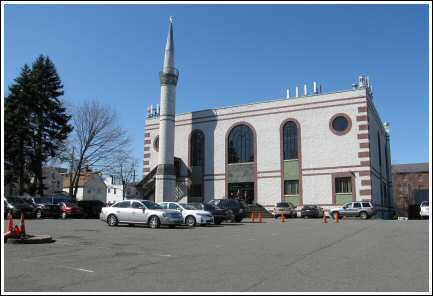 Albanian Islamic Center, Staten Island, NY
It's our hypothesis that barring a fringe bunch of Christian whackos in the heartland obsessed about abortion and gay marriage most Americans are not that religious.
And that's a good sign.
A very good sign for that means less bigots in the world.
The only good thing about a lot of Hindu temples in U.S. is that many of them have canteens that serve delicious Indian food.
We've also enjoyed fine meals during langar at Sikh Gurdwaras.
The great food is about the only good thing we can say about Indian religious establishments in the U.S.