Indian-American kid Nithin Reddy Tumma, 17, of Fort Gratiot, Michigan., won the prestigious Intel Science Talent Search contest for 2012 today.
Tumma takes home $100,000 from the Intel Foundation.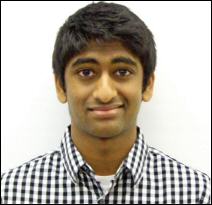 Nithin Tumma – STS Winner
Nithin Tumma (a Telugu) won the award for research that could lead to more effective and less toxic breast cancer treatments.
Tumma is said to have analyzed molecular mechanisms in cancer cells and found that inhibiting certain proteins may slow the growth of cancer cells and decrease their malignancy.
In all, seven Indian-American kids made it to the finals and were competing for the top honor.
Nithin is the son of Suresh and Kavita Tumma.
Indians at STS
Indian and Chinese kids often figure in the top-40 for the Intel STS award, referred to as the Junior Nobel Prize.
Nithin Tumma is the second Indian-American to win the Intel STS award.
In 2008, Shivani Sud of Durham, North Carolina became the first person of Indian origin to win the STS prize.
Nithin Tumma's Background
Here's Nithin Tumma's bio from the STS web site:
Nithin Reddy Tumma, 17, of Fort Gratiot, investigated the signaling pathways involved in cancer progression for the biochemistry project he submitted to the Intel Science Talent Search. Using techniques to measure activated protein levels in cultured breast cell lines at varying stages of malignancy, he characterized two biochemical pathways that play a role in cancer pathogenesis, specifically identifying the role of a protein (gC1qR) in the evolution and immune-evasion of cancers. He believes his study clarified some of the mechanisms by which cells become malignant and, by defining the signaling pathways involved in the process, provided new targets for novel cancer treatments. First in his class of 332 at Port Huron Northern High School, Nithin is an award-winning varsity tennis player, the leading scorer on the varsity Quiz Bowl team and co-founder and captain of the robotics team. He is also the founder of a district-wide math circle for gifted students and a research club for middle school children. A volunteer for the Port Huron Museum, he created an online database of historical information and initiated a program to restore local landmarks.
Other Indian in Top-10
Besides Tumma, two other Indian-Americans figured in the Top-10 of the STS competition this year.
Neel Patel of Geneva, Florida and Anirudh Prabhu of West Lafayette, Indiana came sixth and seventh respectively in the competition.
Patel and Prabhu received a $25,000 award each.
Related Posts:
Yawn! 7 Indian Kids Among Intel Science Talent Search 2012 Finalists