Unknown Indian film director Ashim Ahluwalia's new movie Miss Lovely has won the distinction of being picked to compete in the Un Certain Regard section of the 2012 Cannes Film Festival.
Un Certain Regard is a less prestigious part of the Cannes Film Festival and films selected in this category are not included in the main Competition section and therefore ineligible to win the highest Palm d'Or award.
Still, it's an honor for an Indian filmmaker to be included as part of the official Cannes Festival.
Since most Indian movies are trash, made by philistines and thieves for yahoos and perverts, we almost never see our movies at the Cannes festival.
Au contraire, Japanese, Chinese and even Korean films are now regular fixtures at Cannes.
Miss Lovely
Miss Lovely, Ahluwalia's second feature film, has been described as a shadowy tale set in the dark underbelly of Bollywood.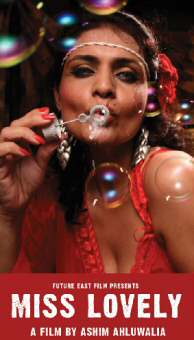 The film focuses on two Bollywood producers of sleazy horror films.
Miss Lovely features Nawazuddin Siddiqui, Niharika Singh and Anil George.
Related Content
Ashim Ahluwalia's Wiki Profile
Cannes 2012 Official Selction