Snigdha Nandipati won the 2012 Spelling Bee Championship at the Gaylord Hotel in Washington DC this evening.
The winning word was GUETAPENS.
Snigdha Nandipati
Age 14, 8th grade
School: Francis Parker School
Hometown: San Diego, California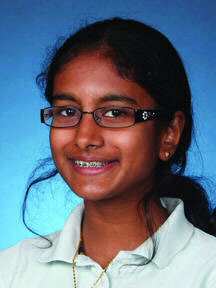 At the end, the battle was between the three Indian kids Snigdha Nandipati, Arvind Mahankali and Stuti Mishra.
Then the hot favorite, 12-year-old Arvind Mahankali, exited after misspelling the word schwannoma.
After that, Stuti faltered, getting schwarmerei wrong.
Snigdha Nandipati – Champion Speller
Going by Snigdha's last name Nandipati, she's a Telugu.
Her parents likely migrated from the South Indian state of Andhra Pradesh, where Telugu is the principal language.
Here's Snigdha's bio from the Bee web site:
Snigdha enjoys reading random facts in encyclopedias, particularly those topics pertaining to science or history. In her spare time, she also likes to read whodunits and adventures, and she collects unique coins from around the world. Snigdha competes in Science Olympiad and has earned several medals. She and her teammates will be attending the California state competition this year. At school, Snigdha participates in math club, MATHCOUNTS, Math Field Day and other math-related events. She attends the San Diego Math Circle each week. Snigdha is an executive member of the school Yearbook Club and she plays violin. She is fluent in Telugu. Snigdha participated in the 2011 Scripps National Spelling Bee, tying for 27th place.
Why Do Indians Dominate the Bee
In recent years, Indian-American kids have been lording over the Spelling Bee like no other ethnic group.
This is the fifth year in a row that an Indian-American kid has won the Spelling Bee championship.
In my view, three factors contribute to the success of Indian-American kids in the Bee competition.
First, these kids are intense, high achievers and extremely dedicated in their mission. They spend countless hours with the dictionary, sacrificing other pleasures.
Second, in Indian families winning the Bee is a family affair with the father, mother, brother and sister pitching in to help the contestant.
Given the looser, less-binding family structure in non-Indian families, it's hard for them to pitch in for the contestant to the same degree.
Finally, there's the peer pressure within the Indian community.
Indian-American kids and their families see other Indian kids winning the Bee and they want to take home the cup too.
By the way, here's an interesting tidbit for you.
The Spelling Bee is a bigger deal in South Indian families than with other Indian groups in the U.S. Three of the four Indian winners in the last four years have a South Indian background.
Bottom line, Indian kids are now basically competing only with the other Indian kids in the Spelling Bee.
Unless there's a miracle, Indian-American kids will continue to rule the Spelling Bee for the foreseeable future.
Indian Spelling Bee Champs from 2000
2012 – Snigdha Nandipati
2011 – Sukanya Roy
2010 – Anamika Veeramani
2009 – Kavya Shivashankar
2008 – Sameer Mishra
2005 – Anurag Kashyap
2003 – Sai R.Gunturi
2002 – Pratyush Buddiga
2000 – George Abraham Thampy
Related Spelling Bee Stories
Indian Kids Crush Competition, 20 Reach Spelling Bee 2012 Semifinals
2012 Spelling Bee – 45 Desi Kids in Race
Boring News – Indian Kid Wins Spelling Bee, Again; Sukanya Roy is 2011 Champion