Yes, humans still eat pizza from Domino's, yeah those dirty bastards who do dirty things to customers' food.
At least this Indian does.
And if it's cheap, SI likes it all the more.
Did you know Domino's offering 50% off on all online orders of pizza from today through June 17, 2012.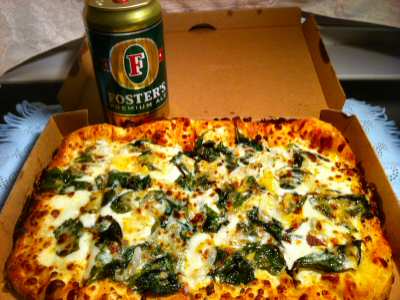 $3.99 for Spinach Feta Artisan Pizza, Sorry, Beer Not Included
The deal is only available through Domino's digital ordering channels, which include online ordering (at www.dominos.com), mobile ordering (at http://mobile.dominos.com) and the iPhone and Android apps – and continues all week at participating stores, through Sunday, June 17.
Damn, the deal applies to the pizza portion of orders only.
No, you can't get 50% off on Breadsticks or Cinnastix.
Too bad.
I ordered a Spinach Feta Pizza and I must say it was not worth even $3, let alone the $3.99 I paid for it (after 50% off).
Way too salty!
You think Domino's put something 'extra' in my pizza? 🙁
Related Stories:
SI Likes Domino's New Artisans Spinach & Feta Pizza
Domino's Rogue Employees Do Disgusting Things To The Food, Put It On YouTube