Using your iPhone merely as a remote to control your Roku device, DirecTV or digital SLR camera is so passe, so 2010.
If it's 2012, we ought to be using the iPhone for more useful stuff, say like switching on lights, turning on the AC (hey, summer started today in the U.S.) or to get the stereo playing that lovely Hindi song Do Diwane Shaher Mein by the time you get home.
Right? Well, at least one company thinks so.
WeMO Switch Debuts
Belkin today launched a WiFi product called WeMO that turns your iPhone, iPad or iPod touch into a remote control for any of your household electronic devices.
Lamps, heater, stereo, curling iron, fan, hey, you name the device.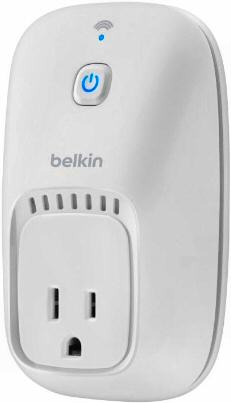 The WeMo line currently consists of two devices – WeMo Switch and WeMo Switch + Motion.
* WeMo Switch is a compact device that plugs directly into any electrical outlet and can be hooked up to a home WiFi network.
Once the Switch is connected to the WiFi network, any device plugged into it can be turned on or off from anywhere, at home, office or on the go, with the free WeMo app via the iPhone, iPad or iPod touch (as long as they're running iOS software version 5 or above).
The app also lets users put the devices on a timed schedule, so devices will turn on or off at pre-set times.
WeMo Switch costs $49.99.
* WeMo Switch + Motion adds a sensor that reads motion within 10 feet and turn on or off anything plugged into the switch based on motion. The WeMo app tells any device plugged into the corresponding WeMo Switch what to do when motion is sensed.
WeMo Switch + Motion is $99.99.
WeMo Switch and WeMo Switch + Motion are available for pre-order at Amazon, Belkin.com and starting June 26 on the Apple store as well.