If we hadn't purchased an iMac last year, we'd have looked seriously at Vizio's new All-in-One PCs.
Vizio's reputation for low prices and decent products has catapulted it to the top rungs of the U.S. TV market in in a fairly short time.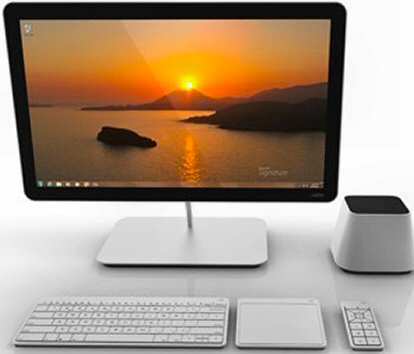 Vizio 27-inch All-in-One PC
But Vizio is a new entrant to the all-in-one PC market, which is largely dominated by Apple's 21.5-inch and 27-inch iMac systems.
HP and Dell also offer all-in-one PCS but the iMac is the king of the all-in-one heap.
All-in-one PCs have been growing in popularity owing to their cool, uncluttered look and the option to use it for watching movies, games or TV shows.

Rear View of Vizio All-in-One PC

Side View of Vizio All-in-One PC
Two Vizio Models
Vizio's all-in-one PCs come in two screen sizes – 24-inch and 27-inch.
For the most part, the specs for Vizio's all-in-one PCs are decent.
Both models come with a wireless keyboard and touchpad, 1.3mm front camera for video chatting, Windows 7 Home Premium operating system, 1920×1080 display resolution, 4 USB 3.0 ports, SD card reader, an eSATA Port, two HDMI Inputs, 3.5mm Headphone/Mic and RJ 45 Ethernet.
The beauty includes two integrated 2.5W speakers, a 6W external subwoofer and a remote control that lets you use its display with other HDMI sources without having to boot up the PC.
Pricing for the Vizio all-in-one PCs depends on screen size and other configurations like processor, RAM and solid state storage.
It ranges from $900 for the entry-level 24-inch system with 500GB storage and the low-end i3 processor to $1,348 for the top of the line 27-inch model with 1TB storage, 32GB solid state storage and a quad-core i7 processor.
As with most Apple products, the iMac all-in-one computers are more expensive and cost from $1,200 (21.5 inch screen) to $2,000 (27-inch) depending on the screen size and other configurations.
Vizio All-in-One PCs – No CD/DVD Drive
The one thing that bothered us about the Vizio all-in-one PCs is the lack of a CD/DVD player (the iMac has it).
We couldn't find mention of a CD/DVD player anywhere in the specs on the Vizio web site or on retailers like Sam's Club and Walmart. I drove over to both Sam's and Walmart today but neither had a Vizio all-in-one on display.
Given that Vizio is positioning the all-in-one PCs for both computing and entertainment, the omission of the CD/DVD player seems like a serious goof-up to us.
For instance, if you were to borrow a DVD from the RedBox kiosk or Netflix you wouldn't be able to play it on the Vizio all-in-ones.
So the entertainment option in the Vizio all-in-one PC is restricted entirely to streaming.
In dropping the CD/DVD player, Vizio seems to be borrowing a page from the Apple playbook. Apple dropped the CD/DVD player in some of its notebooks, notably the MacBook Air.
To be sure, you can get an external CD/DVD player for $40 and hook it up to one of the USB slots on the Vizio PC. But that adds to the clutter, which is one of the things all-in-one PCs seek to eliminate on the desktop.
Recommended Vizio Model
We looked at the various Vizio options.
If we were to decide to buy one of these systems, we'd opt for the 27-inch model with the Intel i7 processor 2.3Mhz, 8GB RAM, 1TB hard disk and 32GB solid state drive. That system would set us back $1,348.
Vizio all-in-one PCs are available for online pre-ordering at Sam's Club, WalMart and Amazon. We expect to see them in stores in a couple of weeks.
Related Posts:
Technical Specs for the Vizio All-in-One PCs
SI Cuts the Windows Umbilical Cord, Goes All Mac