I know not the eating habits of savages.
But this I know – All Civilized Beings love Okra.
When I was growing up in Mera Bharat Mahaan a million years back, my grandmother used to force Okra dishes down my throat on the ground that it'd sharpen my math skills.
But the crone had not reckoned with my math-resistant brain.
Although my brain stoutly resisted math, my palate warmly embraced Okra.
Over the years, I have become so fond of Okra that I treat it like a mistress bestowing frequent loving caresses on it before greedily devouring it.
Okra, I've tried in various forms – Whole Okra Deep Fry, Stuffed Okra, Okra in Kadi (Mor Kuzhambu), Okra Gojju (Bendekayi Gojju), Bhindi Masala, Bhindi Do Pyaaza etc.
After an awful Bhindi Do-Pyaaza at an NYC Indian restaurant the other day, I resolved to make a better Okra curry.
I made a trip to Patel Brothers on 74th St in Jackson Heights and purchased a half pound of Okra.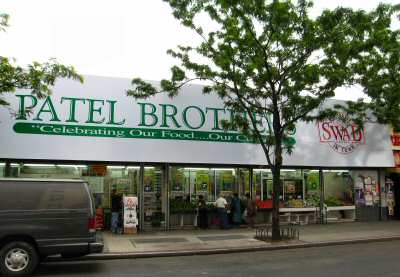 Patel Brothers on 74th St Jackson Heights, NYC

Instead of resorting to the usual Bhindi Masala, I gave it an Indian-Chinese twist and made Chilli Okra.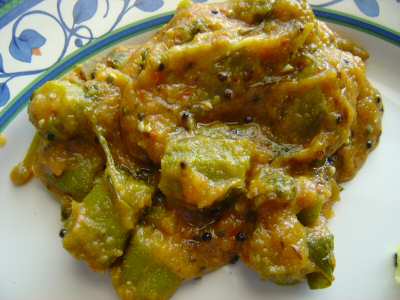 Chilli Okra – Spicy, Hot and Tangy a la SI
Chilli Okra – Modus Operandi
Here is what it takes to make Chilli Okra the SI ishtyle.
Washing/Cutting Okra groundwork: 10 minutes
Cooking Time: 20 minutes
Serving Size – Sufficient for four light eaters and three heavy eaters
Ingredients
1) Half pound fresh tender Okra
2) 5 to 6 tablespoons of olive oil or any cooking oil
3) 8-10 curry leaves (chop the curry leaves if they are big)
4) One tablespoon each of mustard and cumin seeds
5) Two pods of cloves
6) Five tablespoons of chopped fresh coriander Leaves
7) Three teaspoons salt
8 ) Pinch of sugar (optional)
9) Three to four drops of tamarind semi-liquid paste
10) Pinch of asafoetida
11) Pinch of turmeric powder
Masala Paste
1) Five dry red chillies
2) One teaspoon soy sauce
3) One teaspoon balsamic sweet vinegar
4) One-inch long ginger piece
5) One large peeled onion
6) One medium-sized tomato
7) Six tablespoons of water for grinding the paste.
8 ) One tablespoon of wheat flour (optional. use it if you like smooth gravy)
Chilli Okra Cooking Method
Wash the Okra and pat them dry or allow them to dry.
Cut the Okra into medium-size pieces after chopping off the tips.
Take a thick bottomed wok or kadai (deep frying pan) and allow it to become warm and add olive oil or cooking oil.
Once the oil becomes a little hot, add mustard, cumin seeds, two pods of cloves and curry leaves.
When the mustard and cumin seeds starts spluttering add Okra and mix it thoroughly and fry the Okra on medium flame. Keep mixing the Okra.
Do not cover the wok with a lid while frying.
After frying for about eight minutes or until the Okra starts becoming tender, add coriander leaves, salt and continue frying.
While the Okra is getting fried, chop the peeled onion, tomato and add all the chilli masala paste ingredients to the mixer jar and run it for about two minutes till it becomes a fine paste.
Pour the semi-liquid chilli masala paste on top of the Okra and mix thoroughly with a ladle.
Cook Okra in the chilli masala spice paste on medium flame for eight minutes.
Add sugar, asafoetida, turmeric powder and continue cooking for another four minutes.
Switch off the stove and add three or four drops of tamarind paste drops and mix the Okra thoroughly. Leave it covered for two minutes.
Voila, Chilli Okra is ready.
Serve it hot with Chapati or with Jasmine Rice/Basmati Rice.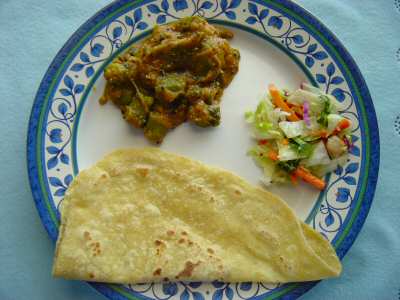 Chilli Okra (top) with Chapati and Garden Fresh Salad
I tried my Chilli Okra with both Chapati as well as hot Jasmine rice with Garden Fresh Salad on the side.
Simply divine.
No Indian restaurant can beat SI's divine Chilli Okra curry!
By the way, I've heard rumors Chilli Okra does wonders to the libido. Do you think it's true? 😉