Those who knew me best often used to say my Achilles Heel, my greatest weakness in life was to fall headlong for flattery.
Wrong!
I'm most vulnerable to the creamy temptations of Ice Cream (Indian food is a close second).
Before you can say ice cream, I succumb.
In a long life, I've had countless ice creams.
Ask not what ice cream or where.
For so many are the places where I have rested my oars to dig into a bowl of ice cream with ferocious concentration!
Chennai, Pondicherry, Mumbai, Delhi, Pune, New York, Niagara, Frankfurt, Guntur, Geneva, Kochi, Amsterdam, Washington DC, Bangalore, Chicago, Hubli, Trivandrum, Mysore, Cologne, Los Angeles, Villupuram, Miami, Virajpet – in all these places and more I've stopped for an Ice Cream.
Where Ice cream is concerned, I've sometimes thrown caution to the winds.
On one occasion, my reckless stop at an unhygienic Indian ice cream shop landed me in a hospital bed with a severe case of gastroenteritis.
But that was only a momentary blip on my great ice cream journey.
So Many Brands
In India, I've consumed tons of Joy, Kwality, Vadilal, Kulfis, Ice Factory ice, Pushcart Ice, Cycle Ice (sold from a box on the back of a cycle) and occasionally home-made ice cream.
In the U.S., I've gorged on Haagen Daaz, Friendly's, Turkey Hill, Starbucks, Baskin Robbins, Breyer's, Ben & Jerry, Deep (Indian), Lahori Kulfi, Indian Kulfi and countless small-store ice creams from coast to coast.
Unfortunately, a lot of American ice creams in the grocery store freezers give me migraine. God knows what they add to the ice creams. 🙁
Eat in haste, repent at leisure was my usual experience with a lot of American ice creams.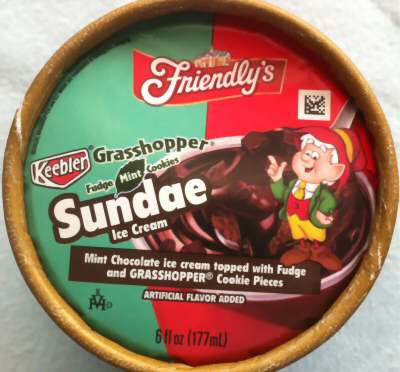 Friendly's Delight
Recently I discovered the cheap $1 Friendly's small 6fl oz cup (177ml).
Small enough not to worry about my blood sugar, cholesterol or the risk of migraine (my hypothesis is that there's also a high correlation between migraine and quantity of ice cream consumed)
The $1 Friendly's cups come in a bunch of flavors but my Redner's Market grocery store stocks only the Fudge Mint Chocolate variety. I've not seen the small Friendly's cup at Acme, Food Lion or Walmart.
Man, the Fudge Mint Chocolate ice cream is heavenly.
For $1, it's an amazing deal. The quantity is decent.
Rich, creamy, thick layer of fudge on top.
Nice mint flavor, sweet.
Sheer Heaven.
Best of all, it doesn't have the crappy, artificial flavor a lot of American ice creams are cursed with.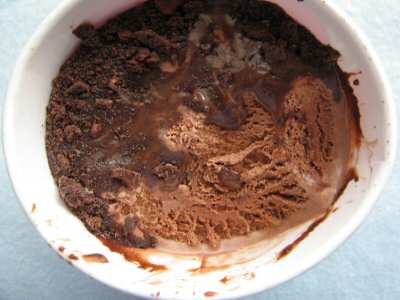 As I type this, I'm scooping the last spoon of Mint Chocolate Fudge into my mouth.
Nirvana never came so cheap in summer!