Sweet is the smell of failure.
Ajith's failure. 😉
Folks, here's some good news that had me opening the bottle early this Friday.
Ajith's latest trashy movie Billa 2 has been ejected from major theatres in the U.S. after just two weeks.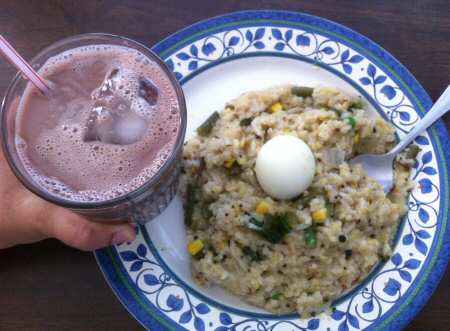 Celebrating Failure – Chocolate-Gin Cocktail with Egg Pongal
Billa 2 is gone from Anil Ambani's Big Cinemas in New Jersey after just two weeks.
No, Billa 2 is not playing in Virginia, Chicago, Fremont and Connecticut either.
Sweet! 😆
As far as I can tell, the piece of junk is playing only in San Jose, California.
Hello, is anyone surprised? 😉
Au contraire, Telugu film Eega continues its strong run.
For Eega, it's the fourth week in the U.S.
Related Stories:
Billa 2 Review – Frustratingly Bad
Billa 2 UK BO Report – Disaster, Worse than Kuruvi, Mankatha etc