I've always been ambivalent about a Bourne movie without Matt Damon.
It's like embarking on a mission to make a bad Indian movie without Abhishek Bachchan or Ajith.
No Abhishek Bachchan or No Ajith, no guarantee of a bad-ass Indian film.
Mission Impossible. 😉
Ditto with the Bourne films.
No Damon or No Paul Greengrass (director), No Bourne enjoy.
To bring a guy like Jeremy Renner who'd do well as an extra in a Bourne film and make him the hero is weird.
Plus, there's a new director (Tony Gilroy) on board with Bourne Legacy.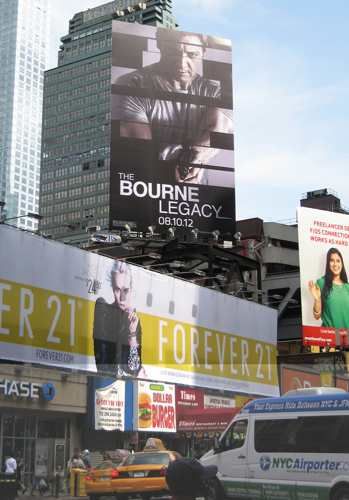 Bourne Legacy Poster – 8th Ave, Midtown Manhattan
Not surprisingly, the early reviews of Bourne Legacy are pretty scathing.
Last night, when I checked RT the rating for Bourne Legacy was 43%.
It's since inched up to 53%.
Still pathetic for a high profile movie franchise like the Bourne Legacy.
Here are excerpts from some of the damning reviews:
* The name, the overlapping timeline, several characters, the writer and even the iconic Moby track remain – but the speed, the economy of story and the raw emotional core of the original trilogy are absent in this stale and messy franchise continuation….The Bourne Ultimatum gave us hope – The Bourne Legacy really says that everything Jason Bourne did was for nothing. The Bourne Legacy disgraces the family name. – Graffiti with Punctuation
* Subbing character actor Jeremy Renner into a franchise that requires Matt Damon-caliber magnetism, series scribe Tony Gilroy takes over the helming duties with an overlong sequel that features too little action and an unnecessarily complicated plot. Fans will come, but they won't be happy, as if paying for a Bond movie and getting a 002 adventure in return. – Variety
* The Bourne films have more than just overstayed their welcome and outlasted the Ludlum books—they've been Van Halenized, with an abrupt change of frontman and a resulting dip in personality. The only big-ass popcorn franchise of the past decade to have not been spawned on computers, the series up to now has survived via Matt Damon's beady gaze….Now, we have Jeremy Renner as another Treadstone mega man (there were nine, apparently), and though he is a likable enough pug-nosed action figure, the Damonlessness is sorely felt. – Village Voice
* The Bourne legacy is furthered but not burnished by this fourth installment of the highly successful series that has heretofore been fronted by Matt Damon. With Jeremy Renner stepping in to play another covert operative and franchise screenwriter Tony Gilroy taking over the directorial reins from Paul Greengrass, the same tone and look are maintained, but the visceral excitement is muffled by familiarity, an insufficiently conceived lead character and the sheer weight of backstory and multiple layers of deception. – Hollywood Reporter
Related Stories:
Bourne Legacy Review – Paisa Vasool