Nothing like a good juicy hamburger when you're hungry and time is short.
Schnipper's on 8th Avenue in Midtown Manhattan (adjacent to the New York Times office) has earned a well-deserved reputation for its burgers.
I happened to be there recently and can strongly vouch for their great flavor.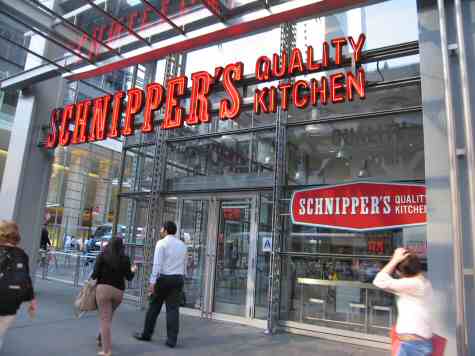 Schnipper's on 8th Ave, NYC
I didn't douse my hamburger with sauce as some schmucks do.
Instead, I just went with the standard L.T.P.O (lettuce, tomato, pickle and onion) and got it cooked medium well.
My hamburger cost $5.50.
The patty was juicy, the bun decent and overall the burger did not give much cause to whine about.
Sitting in the sprawling restaurant, digging into my juicy burger and watching the babes walk past.
Nirvana!
Beats ogling at the Bollywood babes Sonakshi Sinha or Ileana.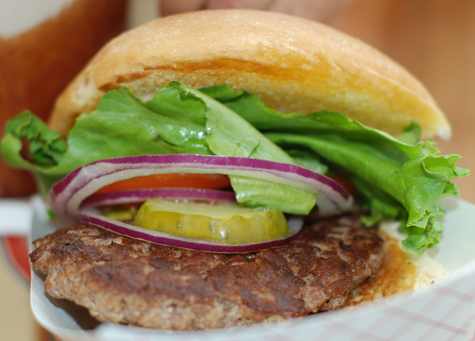 Of course, there are cheaper burgers to be had in NYC including in midtown.
But I doubt they're as good as the Schnipper's.
By the way, the shakes at Schnipper's are amazing too.
If there's anything I don't like about Schnipper's, it's their pricing and the mediocre service.
When I went to get a refill of water, the girl cleaning the area was upset to be disturbed. Somebody, please tell the proletariat that customers pay their wages.
Also, charging $6 for a shake is kinda like the Marwadi rate of interest in small Indian villages and towns.
Schnipper's midtown Manhattan branch is located opposite the Port Authority bus and subway stations.
620 8th Ave
New York, NY 10018
Ph: 212-921-2400